Will Star Wars: Episode VII Have A Post Credit Scene To Tease Rogue One?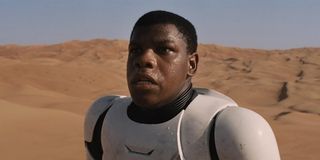 Post credits scenes have become standard practice with superhero movies, to the point that it was news when Fantastic Four revealed there wasn't one, and that Avengers: Age of Ultron only had one. You even had to wait after the credits at Hitman: Agent 47. Up to this point, however, Star Wars has stayed away from this, though that may be about to change.
Just a heads up, there will be some minor SPOILERS beyond this point. We wanted you to know.
According to a rumor going around, one which originated over at Schmoes Know, when J.J. Abrams' Star Wars: The Force Awakens opens this December, there will be a post-credits stinger that will provide our first look at another Star Wars film, the Gareth Edward-directed standalone Star Wars Story Rogue One. This is just a rumor right now, totally unconfirmed, so take it with a grain of salt, but it's an interesting proposition to be sure.
If this is true, a move like this marks a notable departure for the franchise. This isn't something they've ever done before, and it feels like an odd choice. Given the sheer amount of hype surrounding these movies, it doesn't seem necessary to drum up any more (though if you ask the studio, there can never be too much attention). This is the trend, however, and it feels like Star Wars climbing on the bandwagon rather than doing their own thing and standing apart.
Perhaps the most curious part of this is that, comic book movies and others typically use these post-credits sequences to tease future installments, further adventures in whatever universe they inhabit. It would make sense to tease Rian Johnson's upcoming Episode VIII, but Rogue One takes place well in the past, set between the events of Revenge of the Sith and A New Hope, and follows the action as agents of the Rebellion steal the plans to the first Death Star.
Given that, this isn't going to be a continuation of The Force Awakens, and you have to wonder what exactly we're going to see. We might just see a clip from Rogue One, or perhaps there will be a trailer. The movie is filming right now, and it seems unlikely a full trailer will be done, especially a year in advance, but a quick teaser is possible.
Originally, we might have seen a clip or trailer before this point, but Lucasfilm and Paramount struck a deal where the former would hold off on marketing the film as early as they might due to title similarities with Mission: Impossible—Rogue Nation this summer.
With early projections predicting that The Force Awakens could do record setting numbers, and the fact that they'll have a captive audience of fans, it makes sense they would want to promote their next film. You already have them there, so why the hell not? If nothing else, it will be interesting to see how this pans out and what kind of tease they actually deliver.
Star Wars: The Force Awakens hits theaters on December 18 of this year, while Rogue One arrives on December 16, 2016. What do you think of this idea? Sound off in the comments below.
Your Daily Blend of Entertainment News