Why Is Star Wars Returning To Ireland To Shoot More Footage?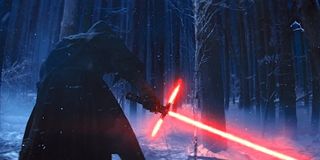 In just a little while, the Star Wars universe is going to return to the picturesque Irish isle of Skellig Michael. J.J. Abrams and Star Wars: The Force Awakens filmed there for a few days, and with this new development, some have wondered if the return to the remote location is for reshoots, or if they will film new material for the upcoming Star Wars: Episode VIII?
Just a heads up, we will be getting into some SPOILERS beyond this point, you've been warned.
Word of Star Wars returning has been making the rounds for a minute, but according to RTE News, learned from Heather Humphries, the Minister for Arts, Heritage, and the Gaeltacht, that Lucasfilm has been granted permission to return to Skellig Michael for some additional photography. They will take the trek later this month, though the article doesn't specifically say which movie—a number of outlets, including the likes of EW, are reporting that this is for The Force Awakens, citing this same article. [EW actually just amended their initial report, now claiming that it is Episode VIII shooting there this fall.]
Odds are that this visit will entail director Rian Johnson (Looper) and company filming for Episode VIII. At this stage of the game, with less than 100 days until The Force Awakens hits theaters, things are getting to the point where they're pretty close to done. They're probably tinkering with the edit, finishing up the effects, the sound, and getting all of the various elements together into the film we'll see in December. However, it's possible there's just something they decided they couldn't live without, and even this late stage, it's not unheard of to do reshoots, but it might be pushing it just a bit.
The idea that it's Episode VIII filming there has been going around for a bit, including a report at Star Wars 7 News. They cite an Irish Times interview with an Irish official where he repeatedly refers to "both Star Wars movies" that will feature Skellig Michael, and how it will expose the remote site to the world. Even if this is not Episode VIII, the implication is that Rian Johnson and company will film there at some point.
Here's the thing, while the RTE article doesn't specifically indicated which movie will film, when Benicio Del Toro confirmed that he'll play the villain in Episode VIII, he also said that he expects production to begin in "February or March." If that's true, it seems to indicate that this is further filming for The Force Awakens.
That said, while production on Episode VIII may not begin in earnest until next year, that doesn't mean they aren't heading there early to capture some exterior shots. Given Skellig Michael's location off the western coast of Ireland, and it's open exposure to the elements, it's a site that changes drastically in appearance over the course of the year. Perhaps there is a certain aesthetic they're looking to capture, and if they don't do it now, they'll have to wait until next year, when they will likely be done with principal photography to get what they need. And with EW's new confirmation, that appears to be the case.
The rumor that has been making the rounds for some time is that Skellig Michael will be the hiding place of a Jedi Knight you may be familiar with: Luke Skywalker. Over the course of production, we've been hearing that Luke has gone into hiding (reports on for how long vary, including some that indicate he may have disappeared shortly after Return of the Jedi). From leaked plot descriptions, which may or may not be accurate, he doesn't show up until the end of The Force Awakens, and neither does Skellig Michael. If that is indeed the case, it's easy to envision a situation where Episode VIII picks up shortly after, in the same location, which would necessitate returning to the location for more filming.
We'll get our first look at the UNESCO world heritage site on screen when Star Wars: The Force Awakens hits theaters on December 18, and again when Episode VIII opens on May 26, 2017.
Your Daily Blend of Entertainment News