Who Mads Mikkelsen Is Probably Playing In Star Wars: Rogue One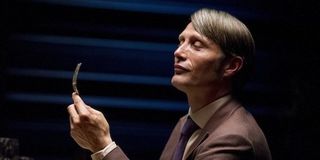 As we approach December, the main focus in the far, far away galaxy of Star Wars is, understandably, J.J. Abrams' The Force Awakens. It is, after all, just a few months away, and features most of the stars from the original trilogy. But while the hype is building towards December 18, the next film, Star Wars: Rogue One is filming away, and today we have a new clue about who Mads Mikkelsen may play in that film.
Warning, there are potential SPOILERS beyond this point, not to mention this is unconfirmed, so make sure to take it with a grain of salt.
News about the Gareth Edwards-directed Rogue One has been rather sparse, but Mikkelsen recently stopped by the Rebel Force Radio podcast, and signed a poster for one of their listeners. Beneath his signature, he wrote what appears to be his character's name: Galen.
A few ears perked up at this little tidbit, as there is a character named Galen Marek in the Star Wars Expanded Universe, who, given the timeline of the film, as well as Mikkelsen's general age, appearance, and aesthetic, could very well be a fit for the 49-year-old Danish actor.
We know that the EU is no longer officially considered canon in the Star Wars universe, but it's been left open to be mined for future content, and Galen could be perfect for this. Mikkelsen has publicly said that his character is "not a bad guy," and while Galen is not a villain, he's not necessarily a "good" guy either—he definitely falls into that anti-hero category that Star Wars loves so much.
Galen is the protagonist of Star Wars: The Force Unleashed, a multimedia project that includes video games, a novel, and more. Darth Vader killed his Jedi parents and raises him as his secret apprentice. Known by his call sign Starkiller, Galen is a Dark Jedi who hunts down other Jedi after Emperor Palpatine orders them destroyed during the time between Revenge of the Sith and A New Hope. Though he starts out as a nefarious character, in this mythology, he is also instrumental in forming the Rebel Alliance and in the outbreak of the Galactic Civil War, and in fact, his family crest was adopted as an official emblem of the Rebellion.
If they do use Galen Marek in Rogue One, it will most likely be in a very different form than in The Force Unleashed. Gareth Edwards has already said that the Force won't be much of a focus, and as the character is portrayed as a powerful Jedi—he battled both Darth Vader and Darth Sidious in one-on-one combat—perhaps he only has a small role. It is also easy to envision a scenario where they keep the character name but use him in a different capacity. With Mikkelsen's general presence and air of authority, I could imagine him as one of the leaders of the Rebel Alliance. Perhaps he's the one who sends the group to steal the plans for the Death Star.
Whoever Mads Mikkelsen plays in Star Wars: Rogue One—whether it's Galen Marek, another character named Galen (Star Wars has never been shy about reusing names), or someone else completely—we can't wait to see what he has in store for us. Rogue One opens everywhere December 16, 2016.
Your Daily Blend of Entertainment News
Your Daily Blend of Entertainment News
Thank you for signing up to CinemaBlend. You will receive a verification email shortly.
There was a problem. Please refresh the page and try again.