Star Wars Fans Might Be Wrong About Benicio Del Toro's Episode 8 Character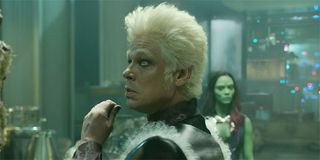 After popping up in the Marvel Cinematic Universe as The Collector, Benicio Del Toro booked his next Disney gig as a character in Star Wars: Episode 8. When his casting was first made public, reports stated he would play a villain, but the actor is trying to reset our expectations.
While at the Toronto International Film Festival, Del Toro spoke with Entertainment Tonight about his still mysterious role. He said,
This appears to contradict what The Wrap reported this past July. The trade was told by sources that Del Toro would be playing "the" villain of Episode 8, though no other information was available at the time. Then again, the celeb has been loosey goosey about his role, given how much he's contractually prevented from saying. Earlier this month, he gave an interview in which he said of his character,
Star Wars: The Force Awakens, directed by J.J. Abrams, will bow this December 18 and introduce us to — at least — three new villains. The first is Kylo Ren (Adam Driver), a former member of the mysterious Knights of Ren and wielder of the red cross-guard lightsaber. The second is General Hux (Domhnall Gleeson), a maniacal new baddie hellbent on inflicting his wrath across the galaxy. The third is Captain Phasma (Gwendoline Christie), who's that glistening chrome-trooper and general of The First Order. It's never too early to speculate on how Del Toro's character fits into all of this sinister activity, but we'll know more after Episode 7 drops into theaters.
Rian Johnson of Looper fame is directing the still-untitled Star Wars: Episode 8, which will pick up after Abrams introduces John Boyega as Finn, Daisey Ridley as Rey, and Oscar Isaac as Poe Dameron — our three new heroes. According to Benicio Del Toro, production is scheduled to commence early next year around February, and the film is set for a release on May 26, 2017, a month currently slated with Guardians of the Galaxy, Vol. 2 (on May 5) and the sequel to Terminator Genisys (on May 19), if that latter will even happen at this point.
Before then, we still have the first Star Wars anthology film, Rogue One, on December 16, 2016. If you need even more material to further distract you from the anticipation, there's also the book Star Wars: Aftermath, which tells the events that occurred after Return of the Jedi; as well as the Battle of Jakku DLC on Star Wars Battlefront, which depicts the epic battle that caused the desert planet to become littered with crashed ships.
Your Daily Blend of Entertainment News