Star Wars: Rogue One May Film In A Revolutionary, Large Scale Format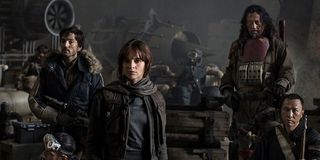 The theatrical movie-going experience will always be alive in some way, shape or form if the filmmakers of today keep on employing gimmicks and devices unique enough that you have to see a film in a theater. While 3D has succeeded to a certain extent, the IMAX format could be credited as being even more successful than any other formatting – simply because the screen and sound are so big that you have to be in one of their theaters to experience it. Studios have integrated the format into their release models quite effectively over the last decade, and if the rumor that Rogue One: A Star Wars Story is using Ultra Panavision 70 lenses to film – this could mean even bigger things for the format.
The Playlist announced today that there are whispers of Godzilla director Gareth Edwards eyeing a strategy similar to that of Quentin Tarantino's shoot for The Hateful Eight. With Tarantino's eighth film going into limited 70 mm release on Christmas Day, before eventually hitting all multiplexes next January, it appears that Christopher Nolan has inspired a new sort of novelty distribution tactic: early release windows for movies actually shot on film.
Now if you happen to live near an IMAX theater that still has a film projector in its employ, this is good news for you as those theaters are the ones that are most likely to be showing these special 70mm screenings. Seeing as the format is one that Disney has more than a passing fancy in using for its big ticket releases, this rumor could mean that Rogue One: A Star Wars Story could find itself taking advantage of the IMAX experience in a more unique way than most other films that decide to digitally re-master their picture for the large format experience. Considering that Rogue One: A Star Wars Story might already be in the process of filming, this might be less of a rumor and more of a low key statement from first hand accounts.
Furthermore, director Gareth Edwards has a history of using what are considered theatrical gimmicks as actual artistic tools. This is the same man that not only chose to post convert Godzilla for theatrical release, he did so because he knew it would enable him to tweak with the 3D presentation in ways that a traditionally filmed film utilizing the third dimension never could. 3D, and presumably 70mm presentations aren't just toys to use in the hopes of making Edwards' films more marketable. If he takes the same approach to the sprawling widescreen nature of Panavision, as well as the increased size and scope of 70mm film, we could be looking at the most artistically satisfying Star Wars film ever. Of course, this would have to be on top of the film actually feeling like it belongs in the Star Wars universe, so it's not like Edwards should be feeling any pressure or anything.
Rogue One: A Star Wars Story comes to our galaxy on December 16, 2016 – acting as the cream to the cookie sandwich that is Star Wars: The Force Awakens and Star Wars: Episode VIII
CinemaBlend's James Bond (expert). Also versed in Large Scale Aggressors, time travel, and Guillermo del Toro. He fights for The User.
Your Daily Blend of Entertainment News
Thank you for signing up to CinemaBlend. You will receive a verification email shortly.
There was a problem. Please refresh the page and try again.