This Star Wars Scene Mashes Up Perfectly With George Clooney's Ocean's 11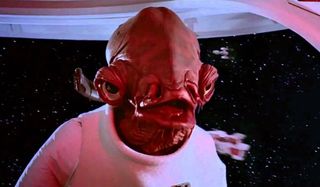 Forget Star Wars: Rogue One, I want to see Rogue 0.01 on the big screen. In what might be the perfect mash-up of Star Wars and Ocean's Eleven, the first YouTube video from Synaptic Studios has knocked one out of the ballpark. If you've ever wanted Admiral Ackbar to get his time in the spotlight, your prayers have been answered.
In what's been dubbed Star Wars: Rogue 0.01 - Ackbar's Eleven, the man who famously shouted, "It's a trap!" has gathered together the best fighters, bounty hunters, and cutthroats the galaxy has to offer for an assault on an imperial stronghold. And who might this ragtag team of rebels consist of? Well, according to the voices, it's Matt Damon, Brad Pitt, and George Clooney, the latter of which takes the glorified role of Ackbar himself.
The folks at Synaptic Studios took the audio from the scene in Ocean's Eleven when Clooney's Danny Ocean explains the plan to break into the Bellagio Hotel in Las Vegas and layers it over footage from Star Wars when Ackbar details the plan to blow up the Death Star. When considered separately, these two scenes seem like separate entities, but whoever the visionary behind this one was able to see the threads tying the moments together. And what we get out of the joining of opposites is pure gold.
Anyone with access to the Internet or Robot Chicken on Adult Swim knows the A-list-level status to which Admiral Ackbar has risen. His catchphrase has been spoofed in various TV shows, and there are more parodies spilling out onto the web, including this one below that inserts Ackbar into famous movies.
We hope this guy is lurking somewhere in the galaxy far, far away now that we're heading into the future events of Star Wars: The Force Awakens. If J.J. Abrams can bring back Chewbacca, C-3PO, R2-D2, Luke Skywalker, Princess Leia, Han Solo, and even the charred helmet of Darth Vader, then he has the power to introduce a senile Ackbar who can't stop screaming, "It's a trap!" Or what about headlining his own anthology film after Rogue One? At the very least, I can dream.
As for The Force Awakens, the first film of the new trilogy hits theaters on December 18 and features a cast that includes John Boyega as Finn, an on-the-run Stormtrooper; Daisy Ridley as Rey, a scavenger; Oscar Isaac as Poe Dameron, the best X-Wing pilot in the galaxy; Adam Driver as Kylo Ren, a new Sith; and a whole slew of other new characters, like Gwendoline Christie's Captain Phasma and Lupita Nyong'o's Maz Kanata. Some more familiar faces like Ackbar could do this universe some good.
Your Daily Blend of Entertainment News