Stephenie Meyer Begs Fans To Stop Sharing Twilight Sex Scene Photos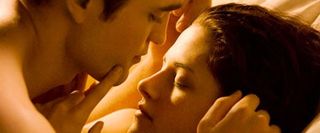 Images from the upcoming final movie in the Twilight saga have started leaking online. Specifically, images involving the movie's first ever sex scene between Bella and Edward. I spotted a few of them, but can't show them to you, since Summit's lawyers are on the prowl cease & desisting them as fast as possible. I haven't seen any with actual nudity, but some of them are pretty graphic, including at least one shot of Bella and Edward in the missionary position. That makes sense. Only werewolves do it doggy.
The studio and the people working on the film are, unsurprisingly, not particularly happy about the leak. These days when it comes to marketing a movie, it's all about control, and control means showing people only what you want them to see, and what you think will best serve the cause of buying tickets. I'm not sure if that's really the right attitude or not, but the Twilight team thinks it is, so they've sent out a personal appeal to fans.
The following press release showed up in my inbox labeled as "A statement on behalf of Stephenie Meyer, Bill Condon, Wyck Godfrey and Summit Entertainment regarding leaked images from The Twilight Saga: Breaking Dawn":
This reminds me of those anti-piracy commercials the MPAA used to run before feature films, and still sometimes run on television. You know the ones, where they ask you to rat out your friends to the police in order to protect their profits, and beg the audience to give a shit about piracy by citing bogus figures about the damage it's doing. I suspect this will work just about as well, which is to say not at all.
Still I'd be willing to give them credit for this approach, if they were making this appeal instead of sending out cease & desist letters and threatening fans with lawsuits for being excited about their movie. But that's not what's going on here. They're doing both. Neither solution solves anything, especially since there's not really anything here that needs to be solved.
The fans sharing those images aren't not buying a ticket for The Twilight Saga: Breaking Dawn just because they saw Bella experimenting with reverse cowgirl on the internet. It's not hurting anyone. Who cares? Actually it's probably good for the film, fans swapping stills are thinking and talking about the movie. That's never a bad thing.
Your Daily Blend of Entertainment News
Thank you for signing up to CinemaBlend. You will receive a verification email shortly.
There was a problem. Please refresh the page and try again.