Steve Buscemi's Favorite Adam Sandler Movie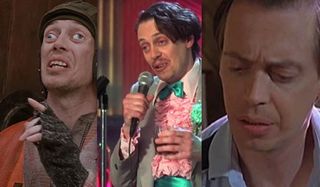 You may not automatically think of Steve Buscemi and Adam Sandler at the same time. The two have very different careers. Buscemi is known for roles like gangster Nucky Thompson on HBO's Boardwalk Empire or Mr. Pink in Reservoir Dogs, while Sandler is most widely recognized for his sophomoric humor. Still, the two friends have teamed up many times and have made eleven movies together over the years, and if you've ever wondered which of these is his favorite, Buscemi recently revealed his answer. (Hint: it's one of ours, too).
Over the weekend, the Fargo star participated in an AMA session on Reddit, and when one fan asked which of his Adam Sandler team ups tops his list, Buscemi said:
If we're being honest, Billy Madison is still one of our favorite Adam Sandler movies, too. He may have had some dogs in recent days, but that 1995 outing still totally holds up. This is also still one of our favorite Buscemi appearances, as well. What starts out as a sweet, earnest moment -- one that illustrates just how much rich kid Billy Madison really has changed over the course of his journey -- plays out relatively straight only to take a very strange turn at the end.
This is also a cameo that pays off big at the end, as Buscemi's Danny McGrath shows up to save the day. Pity the likes of Bob Simonds, Helen Akerley, Perry Blake, and the other names that he didn't cross off of his list (all people who worked on the movie, by the way).
This is far from the only memorable small role Buscemi has rocked in a Sandler movie. The homeless guy in Big Daddy and the drunk best man in The Wedding Singer both rank fairly high in our book, but few are as outstanding as his brief turn in Billy Madison. If you think you're well versed in their collaborations, you might want to check out this quiz we posted recently, and let us know your favorite in the comments below.
Your Daily Blend of Entertainment News
Thank you for signing up to CinemaBlend. You will receive a verification email shortly.
There was a problem. Please refresh the page and try again.