Wow, Pixels Is Generating An Insane Amount Of Interest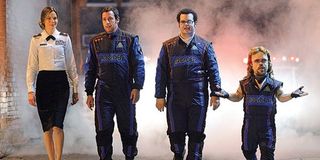 Sony dropped the first trailer for their upcoming sci-fi comedy Pixels earlier this week, and it looks like a total blast. While it features massive '80s video game characters come to life, that's not all that was huge about the video, as it is now the studio's biggest trailer launch of all time.
Sony announced that within the first 24 hours, the Pixels trailer was viewed an insane 34.3 million times worldwide. This tops their previous titleholder, The Amazing Spider-Man 2, which racked up 22 million views in the same time frame after it was released. To put this in perspective, the Star Wars: The Force Awakens trailer that arrived back in November, the most viewed trailer of all time, needed 72 hours to amass 40 million views. We'll have to see if these numbers continue to add up, but could the trailer for an Adam Sandler movie perhaps get more views than a the Star Wars? I doubt it, but it's certainly within reach.
In order to record such gargantuan numbers, Sony made use of every outlet they had at their disposal. They have an expansive global social media presence, and employed all of them, including Sony Electronics, and continue to roll it out on PlayStation, streaming service Crackle, and at their retail stores. You have to imagine that giant Pac-Man looks even bigger blasted across Sony's billboard in Times Square. Additionally, they tapped into the fan outreach of the cast, like Sandler, Kevin James, Ashley Benson, and Josh Gad.
You can watch the record-setting trailer for Pixels below:
In the film, the story begins in the early '80s when NASA sends a time capsule into space full of relevant cultural artifacts about the human race. This mission succeeds in one regard - it does make contact with alien life. Unfortunately, however, what was intended as a message of peace is "taken the wrong way," and the aliens send giant versions of classic video game characters to destroy the Earth. In this time of crisis, President William Cooper (Kevin James) turns to the one person he knows who can defeat Pac-Man, Donkey Kong, and others: his childhood pal, and former gaming champion, Sam Brenner (Sandler). With fellow old school gamers Gad and Peter Dinklage (sporting a sweet, sweet mullet) in tow, they must battle the pixelated enemies and save the world. No pressure.
Written by Tim Herlihy and Timothy Dowling, and directed by Chris Columbus, Pixels also features a stellar supporting cast. Jane Krakowski plays the first lady, and Michelle Monaghan, Brian Cox, and Sean Bean all appear. I wonder if we'll see Bean crushed to death by one of Donkey Kong's rolling barrels or swallowed whole by Pac-Man. Either would be a hell of a way to go for the actor.
Pixels opens everywhere July 24th.
Your Daily Blend of Entertainment News
Thank you for signing up to CinemaBlend. You will receive a verification email shortly.
There was a problem. Please refresh the page and try again.