Some Genius Recut Fifty Shades Of Grey With Steve Buscemi And It's Spectacular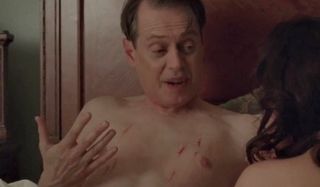 Just when you may have thought you'd seen enough advertising and promotional material for the upcoming Sam Taylor-Johnson-directed erotic drama Fifty Shades of Grey (or gone out of your way to avoid it at all costs), a little gem like this crosses your screen. Watch the below trailer for the upcoming film now with the welcome addition of everybody's favorite character actor.
What begins like any other traditional trailer for the edgy romance pic quickly turns into something entirely different, and without question it's also a heck of a lot more humorous, thanks to the Boardwalk Empire actor. The tone of the clip begins exactly as you might think with Anastasia Steele (Dakota Johnson) meeting the very mysterious and wealthy Christian Grey... only this time it's safe to say he goes by Mr. Pink (as validated by his saying he wants his coffee filled six times).
The mock trailer doesn't stop there, though, as it works in audio and visual clips of Steve Buscemi from a range of films spanning his career, all of which add to the hilarity. While some match with Fifty Shades more than others, the vid, brought to us by Boo Ya Pictures, is relatively spot on. That first shot of him as mob boss Enoch "Nucky" Thompson taken from Boardwalk was great and the closing shot of him in bed with Ana with the scratches all over his chest was absolutely priceless!
I'm sure some folks out there are totally excited to see Fifty Shades of Grey, especially people who have read the books. I am unfamiliar with the source material, so I can honestly say it hasn't grabbed me with the marketing thus far. That is, until this trailer. With Steve Buscemi in the role of Grey I'm suddenly somehow interested. It's amazing what the guy, whose career took off after playing a hired killer in Fargo, can do for one's interest when it comes to his appearing onscreen.
Watching this video, I will admit that I found myself trying to figure out what each clip of Steve Buscemi tied to which of the movies in his filmography. Some of these are definite deep cuts, but I was able to place a handful that included the above mentioned Boardwalk Empire and the alluded to Reservoir Dogs. I also spotted clips of him from the Coen brothers' Fargo and Adam Sandler's Mr. Deeds, Billy Madison and The Wedding Singer, all four adding up to equal one ridiculous and sometimes delirious-looking Christian "Buscemi" Grey.
The R-rated drama flick Fifty Shades of Grey aims to make quite a box office splash as it hits theaters this Friday the 13th. Is it too deranged and/or too early to petition for Buscemi's inclusion in the newly-announced sequels to the film?
Your Daily Blend of Entertainment News
Your Daily Blend of Entertainment News
Thank you for signing up to CinemaBlend. You will receive a verification email shortly.
There was a problem. Please refresh the page and try again.