Steve Harvey's Manly Advice Book Will Be A Movie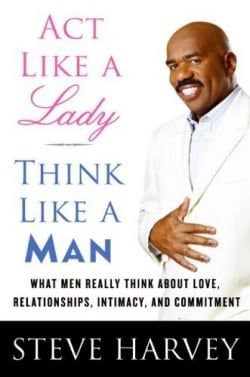 Steve Harvey's Act Like A Lady, Think Like A Man is one of those books I constantly see people reading on the subway and wonder, "Why, why, why do people spend their money on this?" It's an advice book for women about how to understand and snag men, from the point of view that Steve Harvey knows everything about both groups, apparently.
And now all this wisdom will be translated into movie form. Variety reports that Harvey will be the executive producer of an "ensemble comedy about relationships"; Screen Gems is soliciting pitches from writers who are willing to take on that challenge, and presumably willing to target the film toward the "urban" audience that makes up much of Harvey's fanbase.
He's Just Not That Into You, in which some equivalent of the Justin Long figure from that movie will be dispensing even more advice to clueless women. I'm exhausted just thinking about it. Unoriginal romantic comedies are one thing, but an endless stream of them based on advice books are just mind-numbing.
Staff Writer at CinemaBlend
Your Daily Blend of Entertainment News
Thank you for signing up to CinemaBlend. You will receive a verification email shortly.
There was a problem. Please refresh the page and try again.