Steven Spielberg Reteams With Tony Kushner For The Kidnapping Of Edgardo Mortara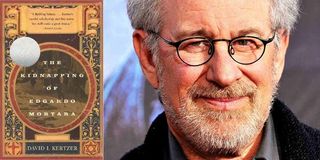 Steven Spielberg is no stranger to docudramas. When the three-time Academy Award winner gears up to bring a true story to the big screen, he tends to have his pick of talent in front of and behind the camera. For his latest dive into docudrama, Spielberg is reuniting with Tony Kushner, who penned Spielberg's Oscar-winning Lincoln as well as his critically praised Munich.
Variety reports Spielberg and Kushner will collaborate on The Kidnapping of Edgardo Mortara, a religious drama which will be produced by DreamWorks and the Weinstein Company. The film will follow the story of Edgardo Mortara, a Jewish boy who was taken from his parents by the Papal State of Italy in 1858 so he would be raised as a Catholic. Kushner will be adapting the screenplay from the nonfiction book The Kidnapping of Edgardo Mortara, written by David I. Kertzer. Read the book's Amazon synopsis below:
It seems an interesting story, as well as one that seems likely to rattle some chains. But Kushner has never been afraid of a little controversy. After all, his play Angels in America: A Gay Fantasia on National Themes dealt with homophobia, religion, and politics. It drew the world's eye to Kushner, winning him the Pulitzer Prize.
Watch a trailer for the Angels In America mini-series below:
Reportedly Spielberg is itching to get back in the director's chair to complete a follow-up to 2012's Lincoln, but insiders are saying The Kidnapping of Edgardo Mortara won't be his next film. For one thing, Kushner is only early on in the drafting process of this complex drama. Spielberg's next will either be Robopocalypse or Montezuma. Some insiders are saying the legendary director is leaning toward Robopocalypse as its pre-production is further along, with a budget nearly set and Chris Hemsworth attached to star.
Based on the novel by Daniel H. Wilson, Robopocalypse is a science-fiction thriller about what happens to mankind after our reliance on technology allows artificial intelligence to take over the planet and wipe out much of the human race. Alternately, Montezuma would be a historical drama that would explore the relationship between the titular Aztec King and Spanish explorer Herman Cortes, whose travels to Mexican territory spurred waves of new explorations that brought an end to the Aztec empire. Schindler's List scribe Steve Zallian is revising a script written by Dalton Trumbo 50 years ago for the film. Javier Bardem has shown an interest in starring as Cortes.
For now, we wait for Spielberg to make his move between these three, then make a movie that will blow us away.
Your Daily Blend of Entertainment News
Staff writer at CinemaBlend.