Straight Outta Compton: That WTF Scene With The Pit Bull Actually Happened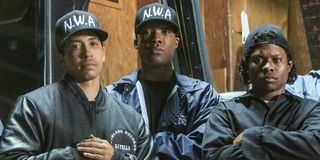 Spoilers from Straight Outta Compton will be discussed, so proceed at your own risk.
F. Gary Gray's Straight Outta Compton hit theaters this past weekend and gave audiences an inside look into the formation and disbanding of the iconic hip-hop group N.W.A. Though some of the scenes depicted seemed implausible to those unfamiliar with the story, original group members are speaking out to their validity, especially in regards to one eye-popping scene involving a pit bull and a man in his underwear.
The real Dr. Dre and Ice Cube broke their silence on Straight Outta Compton to The Hollywood Reporter, and the former had an interesting tale to tell about that crazy moment that, yes, actually happened.
In 1996, Dre left Suge Knight's record company, Death Row, to establish his own, which he would call Aftermath Entertainment. Apparently, test audiences watching an early cut of the film were confused as to the events leading Dre to this decision, so Universal, the director and the real Cube decided to film an additional scene in June, just two weeks before the final cut of the film had to be locked. This was the intense pit bull scene.
Dre, played by Corey Hawkins in the film, is shown walking out of his recording session with Tupac (Marcc Rose) and into a rowdy room where Knight (R. Marcos Taylor), surrounded by his posse, is using a pit bull to torment a frightened man. The animal barked as the man huddled underneath a pool table, shirtless, partially beaten and with his pants drawn down. Dre said of the scene, and of the real-life event:
Earlier in the film, we saw the character of Knight physically beat Eazy-E (Jason Mitchell) into releasing Dre from his previous contract, and bash a bystander who inadvertently took his parking spot, both of which addressed Dre's ambivalence to stay.
There are more stories from the real Dre and Cube over at THR, but Selma director Ava DuVernay also wrote about the film's validity. Having grown up in Compton herself, the filmmaker posted a series of tweets praising F. Gary Gray for his work and remembering the events as depicted on screen. She specifically cited the "militarized Batterrams," as shown in the film's opening; the "cavalier way women were treated in hip-hop spaces"; the "Rodney King Uprising"; and "that shot of the red and blue bandanas tied together," symbolizing the truce between the Bloods and the Crips.
Straight Outta Compton is in theaters now.
Your Daily Blend of Entertainment News