See Tupac In The New N.W.A. Movie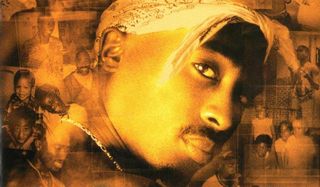 Straight Outta Compton hits theaters this August 14, and while the film focuses on the origins of the trailblazing hip hop group N.W.A., it also features portrayals of some other legendary rap icons. We know that Snoop Dogg, Warren G., and Suge Knight will be represented, but it's only now that we're finally getting confirmation on who will play the legendary Tupac Shakur. Folks, meet Marcc Rose, the virtually unknown up-and-comer who will fill those large shoes.
Ice Cube, a producer on the film and one of the original members of N.W.A., posted a photo to Instagram to commemorate what would have been the icon's 44th birthday. (Tupac died at the age of 25 on September 13, 1996 after suffering multiple gun shot wounds in a drive-by shooting.) In the update, he mentioned shooting a Tupac scene for Straight Outta Compton. Following that teaser, Entertainment Weekly received word from Universal that Rose plays the rapper in the film. As you can see, he holds a strong resemblance to Tupac.
The role of Rose's Tupac in Straight Outta Compton is currently unknown. Rumors began swirling a while back that Rose would play Tupac an the upcoming biopic, to be directed by Boyz n the Hood helmer John Singleton. The actor posted photos of the two of them together with captions saying how much Rose has been learning from the filmmaker. However, EW debunked that rumor, stating that he is not currently signed on to the project.
Straight Outta Compton features O'Shea Jackson Jr. as Ice Cube, Corey Hawkins as Dr. Dre, Jason Mitchell as Eazy-E, Neil Brown Jr. as DJ Yella, and Aldis Hodge as MC Ren. They're joined by Sheldon A. Smith as Snoop Dogg and now Rose's Tupac. F. Gary Gray, the man in the driver's seat for films like Friday, Set It Off, and The Italian Job, directs the film with original N.W.A. member Dr. Dre producing alongside Ice Cube. Watch the trailer for the film below.
Some of the original N.W.A. members -- Ice Cube, MC Ren, and DJ Yella -- will reunite onstage at the BET Awards on June 27 ahead of the film's release. Dr. Dre is not currently scheduled to appear, but as Ice Cube told Rolling Stone, "you never know."
Your Daily Blend of Entertainment News
Thank you for signing up to CinemaBlend. You will receive a verification email shortly.
There was a problem. Please refresh the page and try again.