Supermodel To Make Her Movie Debut in Mad Max 4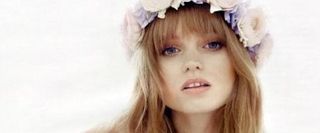 For more than a decade Mad Max director George Miller has been diligently attempting to create a fourth film to tack on to his post-apocalyptic trilogy, but has been plagued by delays. Many announced start dates for production of Mad Max: Fury Road have come and gone, the most recent being this past month, when it's attached stars Tom Hardy and Charlize Theron were expected to travel to the African nation of Namibia for location shoots. But March has come and gone and only now has an update arisen.
The Daily Telegraph out of Australia gives hope that Mad Max 4 may still be a go, announcing news that Aussie supermodel Abbey Lee Kershaw has just joined the cast, seeming to replace I Am Number Four's Teresa Palmer, who pulled out of the production as delays dragged on. This will mark Kershaw's acting debut, but it's unlikely she'll be asked to do much more than look tragically beautiful. An insider reveals her role won't be very demanding, explaining, "Obviously it's set in a post-apocalyptic world, and women, especially beautiful women, are scarce, so men have been locking them up in cages. Abbey is one of them. She's perfect."
Right away this sounds like former model turned actress Estella Warren's role in Tim Burton's disastrous Planet of the Apes remake, wherein she was gorgeous and concerned-looking as she was dragged around by a protective and proactive male protagonist like some sort of prop. Such a lame role would be well dropped by Palmer, as she is set to hit theaters in the U.S. next year with a prominent role in Jonathan Levine's upcoming zombie drama, Warm Bodies. However, as Theron is set to play a fearsome, one-armed warrior woman in Mad Max: Fury Road, I'm hoping Kershaw's casting doesn't mean this action flick will carry with it another helpless, voiceless pretty girl. From the description it sounds like she may little more than a featured extra as well as a shrewd way to get Mad Max: Fury Road some ink as it aims to secure its start date.
Your Daily Blend of Entertainment News
Staff writer at CinemaBlend.
Your Daily Blend of Entertainment News
Thank you for signing up to CinemaBlend. You will receive a verification email shortly.
There was a problem. Please refresh the page and try again.