Sylvester Stallone Has The Perfect Response To His Oscar Snub, See It Now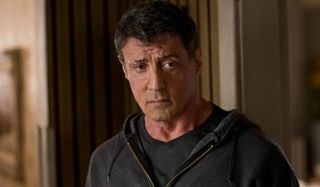 One of the biggest fallouts from Sunday's Oscars ceremony was the Academy's decision to overlook Sylvester Stallone's performance in Creed and give the Best Supporting Actor accolade to Mark Rylance for Bridge Of Spies. This immediately led to some outcry from huge Sylvester Stallone fans. But now, Rocky Balboa himself has taken to Instagram to try and quash the dismay over his lack of recognition. And he did so with arguably the most Sylvester Stallone post of all time.
There's so much to love about this Instagram post that I'm not sure where to begin. First of all, let's point out just how preposterously dapper in his suit and bow-tie Sylvester Stallone looks. Plus his sly little wink and clenched fist are both so effortlessly cool that the Academy should have invented an award for him right there and then.
I even adore every single letter, word, and full-stop in Sylvester Stallone's caption with the picture, which read, "To all the "real Rocky's" of the world, Please hang on to your dreams, NEVER GIVE IN, NEVER GIVE OUT, NEVER GIVE UP! thanks for the support."
I mean, Sylvester Stallone sounds as if he's just lived through a tragic situation rather than being overlooked for an Academy Award. Plus, it's not even as if Sylvester Stallone being beaten to the Best Supporting Actor Oscar was a huge shock, because Mark Rylance's Bridge Of Spies performance has been roundly lauded for quite a few months now.
Despite the praise showered upon Mark Rylance, there were quite a few people who quickly voiced their dismay that Sylvester Stallone was beaten to the Oscar that he apparently thoroughly deserved. Sylvester Stallone's younger brother Frank Stallone released a furious Tweet in response, while Michael Rapaport uploaded a video of him falling off his chair and then chanting Rocky's name in support of Sly.
Both of which I fully condone and hope to see more of in the very near future. Starting with Jackie Stallone challenging Mark Rylance to a boxing match.
Your Daily Blend of Entertainment News