TIFF Favorite Sleepless Night Acquired By Warner Brothers For Remake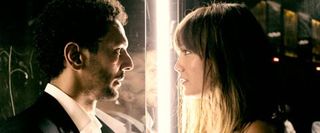 These days it seems that studios are watching film fests like hawks, waiting to pluck anything with even the slightest buzz and fast-track it for a remake. Such is the case with TIFF favorite Sleepless Night. According to The Hollywood Reporter, the remake rights to the French actioner, which played as part of TIFF's Midnight Madness slate, have just been purchased by Warner Brothers. The studio is also in talks to remake runaway TIFF hit The Raid so it seems Midnight Madness has been very lucrative for Warner Brothers.
Sleepless Night is about an undercover police officer who steals a considerable amount of cocaine from a ruthless gangster. As retribution, the gangster kidnaps the officer's son and the film then becomes a race against the clock for our troubled protagonist to reclaim his son, uncover corruption, and avoid being arrested himself. There is certainly plenty of law enforcement intrigue for producer Roy Lee to work with here. Lee also produced the 2006 cop-and-crook thriller The Departed; itself a remake of Hong Kong thriller Infernal Affairs.
In testament to the velocity of the Hollywood remake machine, this story broke just as I had come out of a screening of Sleepless Night here at Austin's Fantastic Fest. Drew McWeeny of HitFix.com introduced the film and joked that Hollywood would most likely remake Sleepless Night before we could finish watching it, turns out his assessment was entirely accurate. The reaction from the Fantastic Fest audience has been largely positive, but not overwhelming to the point that a remake seemed a lock. But I can say with confidence that there is such a solid foundation of gritty action material in Sleepless Night that an American remake could be something spectacular.
Lee's most recent project, Abduction starring Taylor Lautner, opens in theaters nationwide this week.
Your Daily Blend of Entertainment News
Thank you for signing up to CinemaBlend. You will receive a verification email shortly.
There was a problem. Please refresh the page and try again.