TIFF Knockout The Raid Getting An American Remake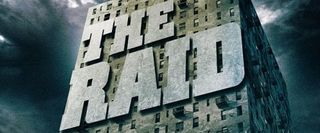 If you haven't had a chance to feast your eyes upon the trailer for the Indonesian action film The Raid, you need to rectify this oversight right now. Telling the story of a special crime unit trapped inside an apartment building with a ruthless gangster's legion of thugs, The Raid promises to be one of the craziest, most brutal, most nonstop martial arts films ever conceived. It roundhouse kicked audiences to the floor at the Toronto Film Festival where it played in the Midnight Madness slate and won the audience award in that division. So with all the buzz surrounding this film, of course it's getting remade.
According to The Hollywood Reporter, Screen Gems is in negotiations to remake The Raid, which is fitting since their sister company Sony Pictures Worldwide Acquisitions snatched up the North American distribution rights at Cannes this year. The film was the only Midnight Madness entry to have distribution before TIFF, so was it the tremendous audience reaction that inspired Screen Gems to remake the film, or was that the intention from the moment Sony Pictures WA purchased it? I only hope the original film is allowed to make the rounds theatrically now that the remake has been announced.
The concern that arises with remaking this film is that its country of origin is a big part of its impact. Many of the action sequences in the film employ a specific type of martial arts called silat, native to Southeast Asia, that focuses on striking and the use of bladed weapons. Not that the actors in the American remake can't mimic this style, but it would be precisely that, mimicry. Also, the safety standards for stuntmen in Southeast Asia are not as stringent as they are here. If you watch films like Thailand's Born to Fight, wherein a stuntman falls between two moving semis narrowly avoiding having his skull crushed, you'll understand what I mean. Not that endangering lives for the sake of capturing great action scenes is something to condone, but it will make those intense moments hard to recreate.
I am chomping at the bit to see The Raid. Austin's Fantastic Fest begins this week and I have my fingers crossed that it will be one of the fest's secret screenings.
Your Daily Blend of Entertainment News
Thank you for signing up to CinemaBlend. You will receive a verification email shortly.
There was a problem. Please refresh the page and try again.