Take A Virtual Tour Of The Avengers S.T.A.T.I.O.N. In Times Square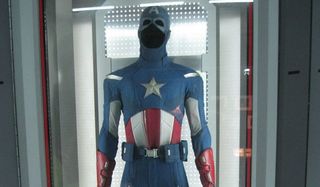 Friday marked the opening of the Avengers S.T.A.T.I.O.N. In Times Square New York, a fully interactive exhibit at the Discovery Zone giving children and adults a chance to learn more about the onscreen Marvel universe. There's a lot of science and history here, but fans can also thrill to plenty of costumes and props from the Marvel movies, as well.
The exhibit was briefly open to the press before their big opening, and we got a chance to bask in some of the neat stuff on display before everyone else. Not every exhibit was complete (they're saving that big 3D Hulk for paying customers, it seems) but we got enough of a flavor to give you an idea of what the presentation entails.
At the start, there are black-clad "agents" who lead you into this white hallway for some sort of "debriefing." Each group is let in about thirty at a time, so as to avoid maximum shoving and pushing and any other sort of supervillainy. The guides wore berets (?) and shirts that said "S.T.A.T.I.O.N. AGENTS." I was gravely disappointed that it had nothing to do with this.
Soon you get to listen to a prerecorded message by actual S.H.I.E.L.D. member Felix Blake. They got Titus Welliver to reprise his role. No expenses spared, Marvel!
He tells you you're a recruit and that you've got a badge that can be scanned during certain exhibits to learn more. We did not receive badges, as apparently a lot of stuff was still being tested prior to the place's opening.
S.T.A.T.I.O.N., by the way, refers to Scientific Training And Tactical Intelligence Operative Network. Which is why there are several rooms where you can be briefed on what exactly happened during The Avengers. Sadly, no peeks at Avengers: Age Of Ultron. We were told we'll soon meet Agents Fury and Coulson as well, though nothing happens in the exhibit at the moment. These guys saw Captain America: The Winter Soldier, right?
Many of the costumes are on display, which is pretty neat. Overheard by a woman, in disgust, towards the Black Widow costume: "She got THAT small??"
You can also see that Coulson's love of trading cards has been preserved.
The Captain America room skips the second film and concentrates on the history of the first, going back in time to World War II. Here, you can learn about how the Super Soldier serum was designed, while also catching remnants of the war effort.
Here's the device that pumped Steve Rogers up to be Cap.
And here are some Cap fashions, including more trading cards!
Finally, the duds. Looking good, Cap. There were also workout machines and physical scans for some of the younger kids, though not all of it was operational yet.
This was the gamma station in the Hulk room. Here, you can swipe and learn all sorts of facts about gamma radiation.
Also, the brain!
And wooooah, continuity! This segment reveals that the government's gamma experimentation have yielded three beasts, one being the Hulk, the second the Abomination, and three, [CLASSIFIED]. Are they referring to Dr. Samuel Sterns, perhaps, played by Tim Blake Nelson in The Incredible Hulk?
There's a room dedicated solely to the leftovers from the great battle of New York. Here we have Loki's gear, staff intact – presumably this exhibition occurs before The Winter Soldier, which is why people are still trusting of S.H.I.E.L.D. and why Baron Von Strucker has not swiped Loki's scepter.
There's also a MASSIVE Chitauri body on display. This was as far back as I could get, it's actually around ten feet tall or so. Adjacent to this was...
… that Chitauri glider, which is just about massive in size.
Sadly, there wasn't a lot set up for the Thor and Iron Man rooms. The Thor room feature a display where one could swipe and learn about Asgard's existence in the actual galaxy. Perhaps this gives them the opportunity to also learn about the Guardians Of The Galaxy, but the swiping technology was not an option for us.
The Iron Man room provided some sort of simulator that captured the feeling of being inside the mask and taking flight. Only one actual simulator was operation, however, and the line was massive. That was basically as close as we were allowed to get to the Iron Man outfit itself, unfortunately. This was for the press; ostensibly, the paying customers will get to do a lot more.
Sadly, the massive gift shop takes up any space that could be used for Black Widow. Boys only at the Avengers S.T.A.T.I.O.N. If the whole thing is successful, maybe they can try some extensions. At least maybe, eventually, something having to do with Vision or Hawkeye?
The Avengers S.T.A.T.I.O.N. will stay open until January 15th. The location is the Discovery Center on 44th Street between seventh and eighth avenues, and admission for adults is $27, but $11 for children ages 3 to 11.
Your Daily Blend of Entertainment News