Taken 3's New Title Is Worse Than Anything You Could Come Up With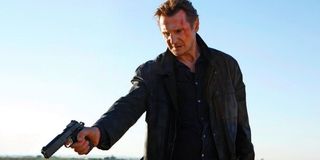 Taken 3 has been renamed Tak3n, in a move that surely signals the end of days is nearly upon us. Inspired by the likes of Se7en, 2 Fast 2 Furious, Cradle 2 The Grave, and Madagascar: Escape 2 Africa, those behind the change obviously feel that this titular rejig was worthwhile. I just can't figure out the reason why.
It's been a pretty busy week for those involved in the third instalment to the explosive series. Just a few days ago, a whole host of new images for Taken 3 … sorry, Tak3n – that's going to take a lot of getting used to – were thrust upon us. Those were joined by Liam Neeson and Forest Whitaker waxing lyrical about Bryan Mills' return. Tak3n won't revolve around Mills hunting down kidnappers who have snatched his second-cousin half-removed though, which is what was expected after the first two films saw his daughter and wife kidnapped. Instead it will see Mills being hounded by both U.S. government officials and a bevy of miscreants after he is framed for the murder of someone close to him.
Poor Bryan. He just can't catch a break. At least he doesn't need his passport this time, because it appears as though Tak3n is set entirely in the good ol' US of A. I'm guessing the Europe Union confiscated Mills' documents after his last journey there.
During a chat with Empire, Neeson opened up a bit more about the blockbuster, declaring, "There's an amazing car chase down the wrong way of a freeway in Los Angeles," before Olivier Megaton, who is back in the director's chair after overseeing Taken 2, added, "It's like The Fugitive. Bryan is going to be chased through the whole movie, he's going to be in danger much more."
Now you're talking my language. Harrison Ford and Tommy Lee Jones' pulsating 1993 classic, which revolved around the wrongful conviction of Dr. Richard Kimble, his subsequent escape from custody, and his pursuit to prove his innocence, is the benchmark for modern action films, and it certainly sounds as if Tak3n is heavily inspired by it.
The problem is though there doesn't seem to be much room for Neeson to hide, because both the 62-year-old action-star, who has experienced a career renaissance thanks to his exploit as Mills, and the French filmmaker went on to confirm that the entire movie is based in Los Angeles. While another tidbit of information revealed that the film's title is actually entirely misleading. Neeson admitted that no one actually gets taken this time in the film, and that he even insisted that the plot was a kidnap free zone before signing-up. "I said, 'I'm dead serious, guys,'" the Irish thespian recalled. "My daughter certainly can't be taken, and I can't be taken."
Neeson refused to neither confirm nor deny if he was the one behind Tak3n's new name though, but whoever is should probably be imprisoned for crimes against cinema. Tak3n will be released on January 9, 2015.
Your Daily Blend of Entertainment News