Tammy: 5 Behind The Scenes Stories You Have To Hear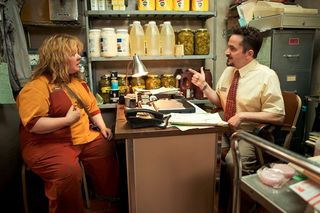 Tammy, the new comedy out in theaters today, has been in development for quite a long while now. First announced shortly after the release of Bridesmaids and based on a script penned by Melissa McCarthy and her husband Ben Falcone, the film bounced around for a while, ending up in the hands of a couple of directors, until finally Falcone stood up and decided to direct the film himself. It's been a long wild ride through the production of Tammy, and the filmmaker was eager to tell me all about it recently when we sat down for a one-on-one interview.
Meeting as part of a press day held in Los Angeles, Falcone and I had a great conversation talking about the ridiculous and funny journey behind the making of Tammy, his directorial debut. Read on to find out what he had to say!
Making A Cameo And Getting A Face-full Of Ketchup Packets
Being an actor himself, it was only natural that Ben Falcone would find some kind of role for himself in Tammy, but his choice is certainly an interesting one. Appearing early in the film, Falcone plays Keith, the manager of the fast food restaurant where the titular character works, and has the lovely job of firing Tammy for her constant tardiness. Because Tammy is rather upset about this situation, she throws a massive hissy fit, with Keith being the direct target of her bad behavior. So why would Falcone put himself in a position to be abused so harshly by his wife on screen?
"It keeps a marriage smooth," Falcone said, laughing. "If your wife gets to throw ketchup at your face for a long time, then she's like, 'I love you' at night."
Further discussing the part, the co-writer/director explained that what he was going for with the character was to create the amalgam of every single terrible boss he had ever had and form what he calls the "uberboss." In addition to being funny, this was also on some level an opportunity to allow Melissa McCarthy to vent against her own idea of that employer. They had so much fun playing out the scene, in fact, that there is nearly half an hour of footage somewhere out in the world.
"There's a version of Tammy and Keith that is like 30 minutes long," Falcone told me. "There was just a lot of stuff about how we used to be closer and that I had a bunch of sangria at a party and said the wrong thing. But I wanted to be just that insecure, creepy jerk. And it was fun, and Melissa then got to live out that fantasy of getting to say all of the things you've wanted to say to your worst boss. So it was great."
Finding Both Comedians AND Grounded Performers
For a first-time director, it's truly amazing how great a cast Ben Falcone was able to assemble to star in Tammy. Even beyond its leads, Melissa McCarthy and Susan Sarandon, the supporting cast is absolutely packed with talented actors like Kathy Bates, Allison Janney, Toni Collette, Mark Duplass, Gary Cole, Sandra Oh, Nat Faxon and more. In casting the movie, Falcone wanted to bring together a team of actors that could both sell the comedy, and deliver the core messages and themes with a degree of gravitas.
"That was a key," Falcone said while discussing his methodology for putting together his cast. "I feel like we did a good job of blending with these people who are so funny and they're also able to play these grounded performances."
One particularly bit of casting Falcone was proud of was the hiring of actress Sarah Baker (The Campaign, Louie) as a fast food restaurant cashier whom Tammy holds up at gun point (or, rather, sunglasses-in-a-bag point). For the scene, which was planned with a great deal of improv in mind, the director knew that he needed somebody who he could not only trust to be funny, but to also enhance her co-stars' performances as well.
"Sarah not only had really funny lines in that scene, but she's also responsible for some of the best moments that happened," Falcone said. "Whatever course she got on caused Melissa to get to the place where she got. So it's not always just an improv, or whatever. It's not always just having the zingers. It's about letting somebody get where they wanna get."
And if you enjoy her scene in the film, be sure to stay after the credits for a funny little extra.
Finding A Heart In An R-Rated Comedy
As a whole, R-rated summer comedies aren't typically filled a lot of big emotions and feelings. Instead, most of them operate as bits of escapist fun that can be jam packed with all kinds of foul language, nudity and gross/lewd behavior. Tammy, however, is not that kind of movie. By the restricted genre's standards, the film is actually rather tame, keeping the adult content to a relative minimum and using the word "fuck" a few times. Rather than being forced to cut back on this kind of content, this was actually the original thought process behind the film, as Falcone didn't want all the dirty stuff clouding the deeper stuff.
In writing Tammy's script with Melissa McCarthy, the director knew that he didn't want to censor the lead character's language – human train wrecks have a tendency to curse a lot – but he also wanted to make sure that the movie's sweetness wasn't overpowered by raunchier material. Said Falcone, "We envisioned doing a really funny comedy with a nice little heart to it"
In this regard, one of the most interesting scenes of the film features Tammy coming home to find her husband cheating on her. What's different is that he's not sleeping with another woman, but instead sitting down for another woman for a nice dinner. The director recognizes that this may be seen as a controversial choice to some viewers, but it was key in telling the story he wanted to tell.
"We did make a choice," he said. "Not everyone is going to like that choice. Some people are going to be like, 'It would be better if she went and saw them having sex, and you go 'Oh my god!' and then you can throw a pan and hit them in the head.' Which is, by the way, a totally valid point. There's nothing wrong with it, and if you execute that well it's fantastic. But something that Melissa and I thought… our goal was to kind to shock Tammy at the top. She's this lady and she's stuck in her life and she blames everyone else, and I would argue that finding your spouse having a romantic meal would be more shocking and awful than the other one."
He Stole From Everyone To Make Tammy
During his tenure in Hollywood, Ben Falcone has had the chance to work with a number of the most talented comedic filmmakers currently active in the industry. From his time with Judd Apatow and Paul Feig on the sets of Bridesmaids to working with Adam McKay and Will Ferrell as producers on Tammy, he's had tremendous opportunity to soak up lessons from the best and apply them to his own directorial debut. So how did he apply the best of what he learned? He "unabashedly" stole it.
Discussing how Tammy evolved from its earliest incarnation to the movie that audiences are going to see in theaters, Falcone admitted that a great deal of change to the script and story came from mimicking the work habits of his successful contemporaries. Instead of having a rigid plan, those filmmakers allow certain elements to exist in a state of flux through pre-production, shooting and post-production, which allows the inclusion of jokes thought up on the spot or ideas that come about as inspiration from the day before. Also serving as inspiration to Falcone in this regard was Nicole Holofcener, from whom he learned to work with subtleties in shots that could change entire scenes.
Of course, there are limitations to exactly how much of that you can do.
"I literally tried to steal from everyone who I feel is so great and the things that they would do," Falcone explained to me. "We had a pretty aggressive schedule so we did tons of improv and lots of alts, but we didn't have the time that, say, Anchorman 2 had to be like, 'Guys, we have two hours to come up with the funniest thing of all time.' It was more like, 'Okay, we got the scene, is there something that can enhance it?'"
Even beyond what was going on in front of the camera, Falcone also added that he "stole" the idea of being the "nicest guy in the world" from Bridesmaids director Paul Feig.
Said the Tammy writer/director, "He's the sweetest man, and when you're doing a scene with him, I know he's being told, 'No, we gotta go, somethingsomethingsomething,' and he's just like, 'Would it be funny, Melissa, if you threw the bowl at him?' And then she's like, 'Ooh, ooh, ooh, ok!' And he's like, 'Okay, that's great!' and he's laughing… that was just sort of how I tried to run the set, stealing that kind of vibe, and utilizing these amazing people that we were lucky enough to get.
Your Daily Blend of Entertainment News
Assistant Managing Editor
NJ native who calls LA home and lives in a Dreamatorium. A decade-plus CinemaBlend veteran who is endlessly enthusiastic about the career he's dreamt of since seventh grade.
Your Daily Blend of Entertainment News
Thank you for signing up to CinemaBlend. You will receive a verification email shortly.
There was a problem. Please refresh the page and try again.