Ted Mocks Kim Kardashian On His Cute And Clever EW Cover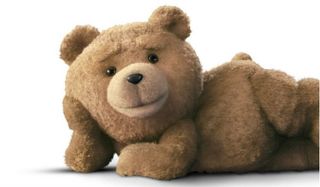 Back in November, Kim Kardashian "broke the internet" when she exposed a few provocative photos from a shoot with Paper Magazine. Well now, upon the upcoming release of Ted 2 a certain loud-mouth teddy bear decided it's about his time to share that Kardashian-styled spotlight. Check out Ted showing off his bum balance.
Ted is certainly not known for holding back mockery. So it comes as no surprise that he'd have something to say about one of the biggest reality TV stars/celebrities of our time. And for once, Ted decided to show, instead of tell. With an exclusive photo, courtesy of EW's Lynette Rice, making fun of Kim Kardashian's similar "bottoms up" photo. And even if you despise Kim Kardashian, the photo certainly made its rounds. In case you need a reminder of the champagne popping-booty shot:
This isn't the first we've heard of a Kim Kardashian and Ted connection. Back in September (a month before Kim's exposing photo shot), Kim K was in talks to be appearing in the sequel to Seth MacFarlane's 2012 comedy hit. She had recently been on a cameo-binge, guest starring on American Dad, 30 Rock and CSI: NY. But this would be Kardashian's second time taking the big screen since 2008's Disaster Movie.
The Family Guy creator apparently wanted Kim K to guest star as somewhat of a love interest for, you guessed it, none other than the badly behaved ball of fur. And if we learned anything from Ted in his movie debut, he's not exactly looking for a snuggle-buddy. So Kim K may be baring all to the fuzzy little bear if this cameo is set in stone. Apparently, according to sources at Daily Star, MacFarlane was in search of a curvaceous woman who could flirt and twerk her way to the bedroom. Not sure if Kanye would approve, but it does sound right up Kim Kardashian's alley.
While there's no official casting of Kim Kardashian in the upcoming comedy, it will see the return of Mark Wahlberg and his childhood best friend, Ted, along with returning stars Jessica Barth and Patrick Warburton, and additionally Amanda Seyfried and Morgan Freeman as newcomers. Seth MacFarlane co-wrote, directed, and of course, voice stars as the titular teddy bear. Ted 2 is scheduled to hit theaters June 26, 2015, so we'll have to wait till then to see if Kim K has her own provocative cameo.
Your Daily Blend of Entertainment News
Thank you for signing up to CinemaBlend. You will receive a verification email shortly.
There was a problem. Please refresh the page and try again.