Ted 2's Restricted Trailer Packs In Drugs, Sex And Tom Brady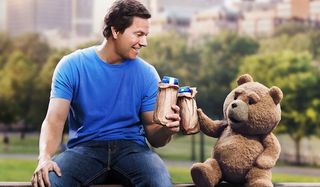 Seth MacFarlane's teddy-bear-come-to-life comedy Ted was a surprise smash back in 2012, earning more than $500 million worldwide. With numbers like that, a sequel was inevitable, and Ted 2 drops this summer. If this new red band trailer is any indication, it should please fans of the first film, as well as any crude humor enthusiasts out there. There's also a fresh new poster. Check them out for yourself below.
All of the stoned Law & Order watching by John Bennett (Mark Wahlberg) and his anthropomorphic teddy bear best friend, Ted (voiced by MacFarlane), is going to come in handy for the duo in their latest cinematic adventure. The plot revolves around Ted and his new bride Tami-Lynn (Jessica Barth) trying to have a baby. As you can see, they run into a couple of roadblocks. First, they need a sperm donor, and New England Patriots quarterback Tom Brady doesn't seem to be particularly eager to lend a hand.
The biggest hurdle, however, is that Ted must prove, in a court of law, that he is person before he and Tami-Lynn can procreate. In light of these circumstances, the thunder-buddies-for-life embark on a mission to get Ted declared an honest to god person. In this regard, Ted 2 feels a little bit like a reworking of Miracle on 34th St., only with way, way more weed jokes.
To accompany the new trailer, Universal Pictures has also released this new poster for the movie.
It doesn't really tell you anything new about the movie, or really anything at all, but it does give you a clue as to what to expect content wise. When you look at a one sheet of a grown man sitting on a bench in Boston Commons, drinking a beer out of a paper bag with his best friend, a stuffed bear, you know that you're in for something a little different than your usual R-rated comedy. You can also see the affection the two have for one another.
As is MacFarlane's pattern, he has assembled an impressive cast full of folks you don't usually expect to see in a movie with so many dick and fart jokes. In addition to Mark Wahlberg, you've got Amada Seyfried as their pot-smoking lawyer, and, perhaps most out of character, Morgan Freeman shows up as what appears to be another lawyer. But he's not the only one, as actors like Liam Neeson, Dennis Haysbert, and Michael Dorn are also scheduled to appear. Those are just the ones we know about, and you can bet that MacFarlane and company have more some surprises up their sleeves for when you sit down in theaters to watch Ted 2 on June 26.
Your Daily Blend of Entertainment News
Your Daily Blend of Entertainment News
Thank you for signing up to CinemaBlend. You will receive a verification email shortly.
There was a problem. Please refresh the page and try again.