Ted Danson And Vinessa Shaw Love Whales Too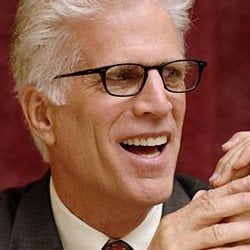 It's always a little silly when well-known actors pick roles that contrast sharply with their real-life personas-- think longstanding liberal Alan Alda playing a Republican Senator on The West Wing-- but, let's be honest, it's pretty fun too. This time it's Ted Danson getting in on the game; the staunch environmentalist has signed on to play a ruthless oilman in Everybody Loves Whales, a dramedy based on the true story of three gray whales trapped under Arctic ice near Alaska in 1988.
THR reports that Vinessa Shaw has also signed on, playing a White House staffer who's on the side of the whales. Director Ken Kwapis has assembled a pretty impressive team for the film, staring with Drew Barrymore as a Greenpeace volunteer and John Krasinski as a reporter based in the Alaskan town-- if you're not seeing a romance popping up between these two, I'm not sure what to tell you. Kristen Bell is also on board to play a ruthless LA reporter who shows up to report on the situation, and Tim Blake Nelson will play a wildlife expert. Filming is happening this fall, somehow working around Krasinski's schedule on The Office.
Staff Writer at CinemaBlend
Your Daily Blend of Entertainment News
Thank you for signing up to CinemaBlend. You will receive a verification email shortly.
There was a problem. Please refresh the page and try again.