Terrence Howard In A Girl And A Gun, Juno Temple Could Co-star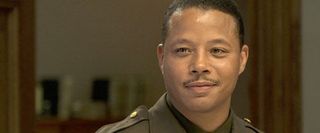 Since being booted from the Iron Man franchise in 2008, Oscar-nominated actor Terrence Howard has been pounding the pavement, but getting little notice, appearing in overlooked features like The Ledge and Winnie. However, 2012 could prove a positive turn for Howard. Earlier this year, he starred in George Lucas's Tuskegee Airmen biopic Red Tails. This fall he will appear in Walter Salles's hotly anticipated adaptation of Jack Kerouac's On The Road opposite Kristen Stewart and Viggo Mortensen. And he is currently in production on Lee Daniel's ambitious ensemble drama The Butler which boasts a massive and star-studded cast that includes acclaimed talent like Forest Whitaker, Alan Rickman, and Melissa Leo, just to name a few.
It's in this upswing that Deadline reports Howard has signed on to headline a new thriller A Girl and a Gun. Set in modern-day Los Angeles, the feature focuses on Ian (Howard) a Hollywood hustler with big dreams of power and fortune, but no way to reach them. However, after thwarting a mugging, Ian's prospects change abruptly as he's inescapably pulled into a web of intrigue.
Filip Jan Rymsza wrote and directed the film, which is rumored to have Christopher Walken on board to play "The Boss," which while vague, makes tons of sense. Juno Temple, who recently played Anne Hathaway's gal pal in The Dark Knight Rises, is in talks to co-star, presumably as Anna, a Kansas native whose fresh off the bus in LA with aspirations of being an actress. If the film stays true to Rymsza's admitted pulp fiction inspirations, I'm going to guess neither Anna nor Ian's plans pan out quite as they'd hoped.
A Girl and a Gun will shoot in LA this fall.
Your Daily Blend of Entertainment News
Staff writer at CinemaBlend.