Time Bandits Remake Coming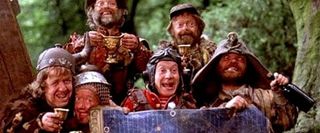 For a lot of people Terry Gilliam's Time Bandits fits comfortably on a shelf next to movies like Goonies and E.T. as one of the films that most shaped their childhood. So of course it's being remade.
Guy Collins, Michael Ryan and Fred Hedman who used to run Handmade Films Intl. are produce what they're calling a "reboot" of the Terry Gilliam classic. In addition to Time Bandits Handmade Films was responsible for such classics as Monty Python's Life of Brian, Lock, Stock and Two Smoking Barrels, and more recently 127 Hours. Their back catalogue is fairly limited though, with only around 30 movies in their library, so in an era where Hollywood is no longer making original material and instead simply mining their back catalogue for movies with name recognition to redo, this was probably inevitable.
In this case using the word reboot to describe what's being done to Time Bandits is pretty clearly just a nicer way of saying straight-up remake. They tell Variety their plan is to turn it into a "bigscreen kids action franchise". Here's what I've learned in covering movies for nearly a decade: People who make great movies for kids don't set out to make movies for kids, they just set out to make good movies. See Pixar. With that as their mindset, feel free to go ahead and predict failure for this endeavor, or start planning your "it's just a kids movie" excuses for when the thing shows up in theaters and is terrible.
The original 1981 Time Bandits was an original idea written by Monty Python alums Terry Gilliam and Michael Palin. It told the story of a boy whisked off on a fantasy adventure by a group of dwarves, as they travel to mythical places and time periods. Will Terry Gilliam be involved in the remake? If you know anything at all about Gilliam, you know that's pretty unlikely.
It's worth noting that Handmade Films was rumored to be attempting a Time Bandits remake as far back as 2006, and nothing ever came of it. If we're lucky, this effort will fare no better.
Your Daily Blend of Entertainment News
Thank you for signing up to CinemaBlend. You will receive a verification email shortly.
There was a problem. Please refresh the page and try again.