Tina Fey's Whiskey Tango Foxtrot Trailer Is Sarcastic And Explosive, Watch It Now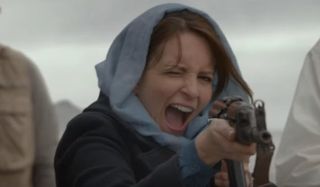 While war is Hell, war journalism could probably be equated to something a bit less intense and more insane. At least that's what it looks like in the trailer for Tina Fey's new dramedy Whiskey Tango Foxtrot. Gaze upon the madness yourself, with that very trailer below.
Released earlier today through Paramount Pictures' YouTube channel, Whiskey Tango Foxtrot, which was previously named The Taliban Shuffle, tells the true story of Kim Barker, a journalist who heads out to the Middle East during the days of Operation Enduring Freedom. Trying to escape the rut of a life she had back home, Barker travels to Afghanistan and makes friends with another female journalist, played by Margot Robbie. Of course, she also makes bad decisions with a wild photographer, played by Martin Freeman, so it kind of balances out. All the while, she'll cover the war zone, and it's many different stories of conflict and peace.
Returning to their director's chairs after this year's Focus are Glenn Ficarra and John Requa, the directors behind such similarly weighted films as Crazy Stupid Love and I Love You, Phillip Morris. Their flare for both the dramatic and the comedic show through in this trailer, especially when aided by the Robert Carlock written dialogue. You might not know him by name, but you'd know him by his previous work with Fey as a huge part of TV shows 30 Rock and The Unbreakable Kimmy Schmidt. Running back through some of the moments in this trailer, it's easy to peg Carlock's work, as they're just like gags from the show's he and Fey partnered on.
So what's new to the table for our faithful partners in entertainment? Well, for one, the dramatic angle looks like it's more present than would normally be seen in a Tina Fey vehicle. Whiskey Tango Foxtrot does look like it's having fun, especially when it pairs Fey with Billy Bob Thornton's Jack Donaghey-esque character General Hollanek; but at the same time, it doesn't take the scenario of war so lightly as to disrespect the sacrifices made by our men and women in uniform. Should this film score the right balance between the two, this could be a great off-season hit before the superhero movies come out to play.
Of course, we're going to hedge such lofty thoughts on the fact that Focus - while making a decent profit on its modest budget – didn't exactly set the box office world on fire. It wasn't a disaster, but it certainly wasn't memorable enough to remember anything past Will Smith and Gerald McRaney sniping at each other through one particularly good scene. It's that fact that has us worried about Whiskey Tango Foxtrot, as we really want to like this movie, but we still see the potential for it to be another middle-of-the-road picture.
We'll see which side of the coin Whiskey Tango Foxtrot lands on, when it opens on March 4, 2016.
CinemaBlend's James Bond (expert). Also versed in Large Scale Aggressors, time travel, and Guillermo del Toro. He fights for The User.
Your Daily Blend of Entertainment News
Thank you for signing up to CinemaBlend. You will receive a verification email shortly.
There was a problem. Please refresh the page and try again.