Tom Arnold Insists He's Making True Lies 2 From A James Cameron Script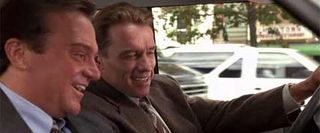 We know that since he's done with politics, Arnold Schwarzenegger is looking to get back into the movie business. What we don't know for certain is what movie he'll do that with. A few weeks ago Arnold confirmed here that he's considering a large number of different projects, including sequels to classic Arnold films like The Terminator, Predator, and The Running Man. He didn't, however, mention True Lies 2. Consider it mentioned.
It's been mentioned not by Schwarzenegger but by his True Lies co-star Tom Arnold. Talking to MovieWeb Tom revealed, "I have read a great True Lies 2 script, and I hope we are able to do it. Knock on wood. Arnold Schwarzenegger is excited. I am excited."
That sounds pretty promising until you remember that True Lies is the only good thing Tom Arnold has ever done, and because of that, this could be another manifestation of something I'm calling Arrested Developmentism. Arrested Developmentism is defined as the incessant teasing of projects you know will never happen, because you believe it's the only way to get people to talk about you. This seems especially plausible in light of the fact that Tom Arnold ran around making similar True Lies 2 claims back in 2009 only to have them debunked by pretty much everyone who would have to be involved.
Luckily, it seems the guys at Movie Web have heard of Arrested Developmentism, or maybe they just remember 2009, because they weren't willing to take Tom Arnold's word for it. They quizzed him in depth about the veracity of his True Lies 2 claims and Tom really stuck to his guns. Arnold insists that both he and Arnold have read the script, and what's more that True Lies director James Cameron himself had a hand in writing it. Tom was pretty specific here, so specific that even if he's Tom Arnold, you almost want to believe him.
Outside of wild Tom Arnold self-promotion though, the only buzz in Hollywood over more True Lies has been on the television side. Back in December we heard that John Cena was supposed to star in a TV version of the 90s action movie. It's unlikely Fox is willing to both a television series and a full on, feature film sequel. Tom Arnold may sound convincing, but the numbers still don't add up.
Your Daily Blend of Entertainment News