Tom Felton Gets Girlfriend To Play His Wife In Deathly Hallows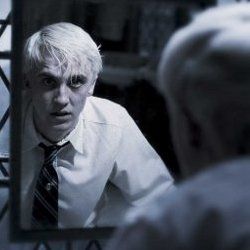 Back in my younger, dating days, I had some general rules. Don't mention marriage to a girl if she is only your girlfriend. Don't joke about marriage to a girl if she is only your girlfriend. And finally, definitely don't pretend to be married to someone who is only your girlfriend. Apparently, Tom Felton and I live by different sets of rules.
**Spoiler alert** According to MTV Movie Blog, Felton, who plays Draco Malfoy in the Harry Potter movie series has brought on his real life girlfriend, Jade Gordon, to play Draco's wife in the Harry Potter and the Deathly Hallows. They just finished shooting a scene that appears near the end of the movie where the characters in the Harry Potter world have grown up, gotten married and had kids of their own. Felton's girlfriend will play the new Mrs. Malfoy, Astoria Malfoy, in this scene. **Another Spoiler alert** Felton and gal will be broken up in two months.
It becomes obvious what a mistake this casting move is for Felton's relationship when he lets on, "She was slightly reluctant (to play the wife. But I pulled her arm and twisted it." Cheeky bastard, can't even get his girlfriend to fake marry him.
Harry Potter and the Deathly Hallows, Part 1 will hit theaters in November of this year. Look for Felton with a new girlfriend on his arm at the premiere.
Your Daily Blend of Entertainment News
Doug began writing for CinemaBlend back when Terminator: The Sarah Connor Chronicles actually existed. Since then he's been writing This Rotten Week, predicting RottenTomatoes scores for movies you don't even remember for the better part of a decade. He can be found re-watching The Office for the infinity time.