Tom Hanks Directing For The First Time Since That Thing You Do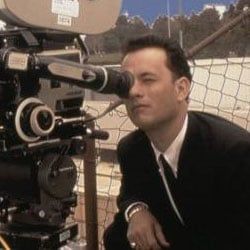 It's been a ridiculous amount of time since Tom Hanks wrote and directed his first feature film. He made his debut back in 1996, on the still highly underrated, toe-tappingly awesome movie That Thing You Do. Hanks proved he had real talent behind the camera, and then proved it again by helming the critically acclaimed television series Band of Brothers and From the Earth to the Moon. And then around 2001 he inexplicably abandoned directing entirely.
Now at long last Hanks is back with a new project. Deadline Hollywood says he's written a movie called Larry Crowne for his Charlie Wilson's War costar Julia Roberts. He'll direct and also star in the film alongside Julia as a man forced to find a new career to reinvent himself at a late age. The movie's a comedy and DH offers no explanation for where Julia Roberts fits in. Only that she's in it.
It's great news that Hanks is getting back to directing, but it's even better news that this means he's getting back to doing something besides those horrible Da Vinci Code movies. Sure they make a lot of money, but they're a total waste of his talent.
Tom Hanks movies before Da Vinci Code? Cast Away, Road to Perdition, Catch Me if You Can, The Ladykillers, The Terminal. A couple of duds in there but at least Ladykillers was ambitious and The Terminal, whatever its flaws, allowed Hanks to give a great performance. And the rest… a legendary string of brilliant roles in three brilliant movies.
Now take a look at what he's done since appearing in The Da Vinci Code circa 2006: Charlie Wilson's War, The Great Buck Howard, Angels & Demons. Lame. Duds. Boring even. A total waste of his time and talent. I want Tom Hanks back. Maybe Larry Crowne will give him to us.
Your Daily Blend of Entertainment News