Tom Hanks' Impression Of Ron Howard Directing Is Really Funny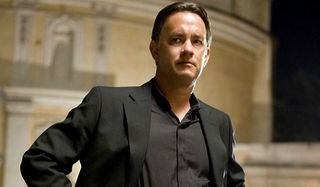 As a veteran, two-time Oscar-winning actor, you'd think that there are very few things left that go on in front of a camera that are beyond Tom Hanks' comfort zone. However, on last night's The Late Show with David Letterman, the actor humorously recalls a rather bizarre five hours on the set of the upcoming Inferno with a hilarious impression of the directorial stylings of one Ron Howard.
Hanks' story on Letterman comes from the set of Inferno, the third film adaptation of Dan Brown's Robert Langdon series that started with The Da Vinci Code, and illustrates a specific challenge in modern filmmaking, attempting to evoke emotional interactions with imaginary CGI elements that only exist in concept during shooting. The scene in question involves Hanks' Langdon and Felicity Jones' Dr. Sienna Brooks being chased in the majestic ancient hallways of Florence's Palazzo Vecchio. However, the actors can't actually see their pursuers, since they happen to be what Hanks describes as "malevolent helicopter drones" to be added later on in post-production. That's where things apparently devolved into the absurd on the set.
It seems that the monotone voice of second unit director Bill Connor wasn't quite motivational enough to help Hanks and Jones sustain the primal survival instincts that needed to be conveyed. Ron Howard himself then stepped into the role of the motivational expeditor, watching the shoot from the monitor while serving as the on-set narrator of the drones' various movements. Thus, for a five-hour shoot, Hanks and Jones had to run around feigning mortal danger from flying fiends, motivated only by Ron Howard's repeated screaming of "DRONE! HOVERING! YOU SEE THEM! THEY'RE GONE! NOW THEY'RE BACK!"
Of course, longtime fans of the Tom Hanks/Ron Howard collaborative team know that it's a working relationship that goes all the way back to Hanks' early mermaid-romancing hit, 1984's Splash, and includes the 1995 box-office mega-hit, Apollo 13, 2006's The Da Vinci Code and its 2009 follow-up, Angels & Demons. Thus, Hanks' impression of Howard is clearly made with a level of affection. Yet, it does highlight the absurdities that actors have to deal with during scenes that are meant to be filled with tension. While being a film actor who gets paid an ludicrous amount of money is hardly a pitiable thing, having to maintain a serious, emotionally primal mental state for five hours, pretending to be chased by flying imaginary objects doesn't exactly sound like a fun way to spend an afternoon.
In the meantime, we can also take Hanks' story about the Inferno shoot as a valuable update on the once-delayed production. While The Da Vinci Code was a $758 million hit in 2006, it's 2009 sequel (adapting the first book in the series) yielded only $485 million. With Sony Pictures snubbing the series' second book, The Lost Symbol, for a second time as a film sequel, Inferno could realistically find itself as the closer for the series when it hits theaters on October 14, 2016.
Your Daily Blend of Entertainment News
Your Daily Blend of Entertainment News
Thank you for signing up to CinemaBlend. You will receive a verification email shortly.
There was a problem. Please refresh the page and try again.