The Da Vinci Code Sequel Just Hit A Major Snag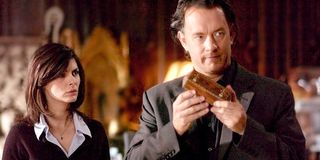 For a time, The Da Vinci Code looked like it was going to touch off a fairly steady stream of sequels through both the filmed and printed medium, especially with the continued yet limited success that Angels And Demons brought to the franchise. With a team like Ron Howard and Tom Hanks on board with a literary success story like Dan Brown's Robert Langdon books, it seemed like adults would have something exciting and cultured to see at the movies. If it wasn't for the fact that The Lost Symbol flamed out during pre-production, that might have been true; and if Inferno isn't careful, history just might repeat itself.
Coming Soon has reported that Inferno's original release date of December 18, 2015 has been pushed back to a October 14, 2016. On the surface, this could look like Sony is not putting much stock into the franchise's staying power, and to be fair they wouldn't be far off in that assumption. It's been five years since Angels And Demons was in theaters, and while it did decently at the box office, it didn't bring in numbers that would keep it fresh through this long of an absence. The Lost Symbol's failure to launch under Mark Romainek's directorial hand only serves to weigh the franchise down more, so naturally Sony is going to have cold feet about footing the budget a Tom Hanks/Ron Howard movie deserves.
However, the real reason the film has been pushed back might be more along the lines of practicality. Considering the immediate neighborhood the film was scheduled to land in, Inferno didn't stand a snowball's chance in Hell. Being scheduled to go up against Star Wars: Episode VII on its opening weekend, only to go on to head up against Mission Impossible 5 the next weekend, is basically a 1 2 punch of death. The fact that it was even scheduled for that date is something that should have been questioned from day one, and thankfully for them it looks like they've made the right decision.
Pushing Inferno to an October 2016 release date manages to kill two birds with one stone, as it gives the film more time to prep and position itself for a reintroduction to the public, while at the same time releasing its product in a less crowded environment. Not to mention, the project has just gotten back onto its feet and both Tom Hanks and Ron Howard have had other projects in the works before this one came to fruition.
Will we see history repeat itself and cause us to miss out on two Robert Langdon pictures? It wouldn't be that much of a stretch as this project has been on the burner since last year and it still hasn't made any consistent movement beyond locking the franchise's previous participants. The coming months will probably tell us more than anything, as public reaction and market research will paint a more accurate picture of whether the world wants to run with Robert Langdon, or just watch his legacy burn.
Inferno is now scheduled to ignite the screen on October 14, 2016; where it will face off against A Monster Calls its first weekend, with Ben Affleck's Live By Night challenging it during its second.
CinemaBlend's James Bond (expert). Also versed in Large Scale Aggressors, time travel, and Guillermo del Toro. He fights for The User.
Your Daily Blend of Entertainment News
Thank you for signing up to CinemaBlend. You will receive a verification email shortly.
There was a problem. Please refresh the page and try again.