Tom Hardy And Takashi Miike Depart The Outsider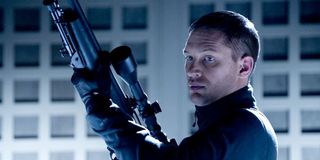 The truth is, some projects are too awesome to live. That seems to be the case with The Outsider, a script from 2011's Black List that had tongues wagging long before Michael Fassbender was attached to star for director Daniel Espinosa and producer Joel Silver. When that itineration fell through, it was a new and more exciting duo that climbed aboard the project, a combination so lethal no one knew what to expect. First, do-anything ass-kicker Tom Hardy, a perfect choice for the former POW-turned Yakuza enforcer of the story. Then, gonzo director Takashi Miike, making his English language debut.
But alas, it was not to be. With the film in pre-production, Hardy has dropped it like a hot potato held by a dude not smart enough to wear gloves, according to Twitch. Why did Hardy leave the picture, and so late? Hard to say, though the actor has been extremely busy as of late. Depending on who you ask, Mad Max: Fury Road has been shooting on and off for the last five years or so. Combine that with Hardy's upcoming roles in Child 44 and The Drop (formerly Animal Rescue) and you can tell that he's been working hard. Perhaps there are commitments he needs to make for future projects, which includes the Elton John biopic Rocketman.
Producers are reportedly seeking a replacement lead, but the departure pushes production back far enough that the prolific Miike will also have to bow out. Double sadness! Miike is a cinematic treasure, though his absurdly aggressive style has been toned down in recent years, allowing for a more measured, mature approach to his films. Still, he's more nuts than anyone else the production could pursue (particularly Espinosa, who directed the moribund Safe House), and it would have been exciting to see what he could have done with some American financing: the one time he worked in the English language was on Imprint, the "banned" episode of Masters Of Horror, and it was a highlight of the show's brief run.
The production now hopes to find a solid acting-directing team that can get this project underway soon. The film takes place shortly after WWII, with the title character falling in love with the wrong girl, creating a conflict of interest with his Yakuza employers. It sounds similar to Sidney Pollack's badass actioner The Yakuza with Robert Mitchum. If this was going to be an homage to that film, you couldn't find a better Mitchum-alike than Hardy.
The Yakuza Trailer (opens in new tab) from Jonathan Levy (opens in new tab) on Vimeo (opens in new tab).
Your Daily Blend of Entertainment News
Thank you for signing up to CinemaBlend. You will receive a verification email shortly.
There was a problem. Please refresh the page and try again.