Tom Selleck Confirms A New Three Men And A Baby Sequel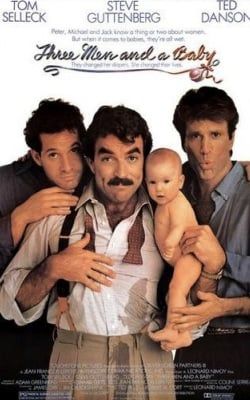 Turns out that when Steve Guttenberg started talking up plans for a new Three Men and a Baby movie last fall, he wasn't just making things up as a desperate ploy to revive his career. I know, I'm surprised too. Talking to MTV to promote his role in the soon-to-be-awful Killers, Tom Selleck confirmed that Disney had checked up on him, Guttenberg and Ted Danson to gauge their interest in a third movie together, this one to be called Three Men and a Bride.
According to Selleck there's a script, but we'll only know if he'll actually make it once we know if the script is any good.
As someone barely older than the baby of the first movie and little lady of the second, I'm totally weirded out by the notion that she would be getting married by now-- and yes, I know that's probably the least of anyone's concerns about this potential disaster. Then again, Selleck, Guttenberg and Danson are all funny guys who don't get nearly enough work these days. Would a reunion be enough to get them back in business? And even if the movie is terrible, would you pay just to see the gang reunited again?
Your Daily Blend of Entertainment News
Staff Writer at CinemaBlend