Tom Wilkinson Will Boss Around Vince Vaughn In Business Trip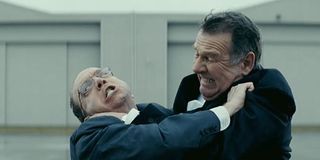 One of the funniest scenes in recent memory, and in a movie that almost nobody saw, was the opening credits of Duplicity, a spy comedy starring Julia Roberts and Clive Owen, but opening on a slow-motion fistfight between Tom Wilkinson and Paul Giamatti, playing two titans of industry who were sick of each others' shit. The scene is funny both because it's two middle-aged white dudes throwing ineffective punches, and because both Wilkinson and Giamatti have reputations for being Serious Actors, which they happily shed to whale on each other on the tarmac.
So yeah, Tom Wilkinson can be funny. But can he be funny and hold his own against a motormouth like Vince Vaughn? That's another question entirely. Deadline reports that Wilkinson is starring opposite Vaughn in The Business Trip, a comedy that will be directed by Vaughn's Delivery Man director Ken Scott. Wilkinson's character is described as "a business associate and traveling companion of Vaughn's character," which is impossibly vague, but previous reports say that they're keeping the film's plot secret for some reason, so we don't have much other detail to offer. Nick Frost and James Marsden are also in talks for roles in the film, which will be set in Europe, but seriously, those are all the details we can give you.
We got a first-hand look at Scott and Vaughn's working relationship when we visited the set of Delivery Man, which is a remake of Scott's own French-Canadian comedy Starbuck. Vaughn was attached to Business Trip before Scott joined, which suggests the comedian handpicked the director-- that's a lot of power for a guy whose last film was the embarrassing flop The Internship.
As for Wilkinson, he's got a huge variety of roles coming up to help you forget he was ever involved in The Lone Ranger, from the drama Felony to Wes Anderson's period ensemble comedy The Grand Budapest Hotel. If you want to see his comedic chops on display sooner, though, check out that tarmac fight scene from Duplicity below. It is the only correct way to start your day.
Your Daily Blend of Entertainment News
Staff Writer at CinemaBlend