The Tomorrowland Trailer Teaser Will Hook You In 10 Seconds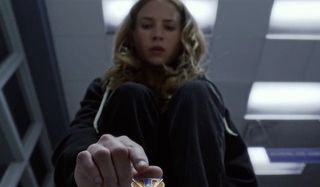 The latest teaser for Tomorrowland has just dropped and let's just say that it's taking the "minimalist" approach. Clocking in at only 10 seconds, you may find yourself thinking, "What could they possibly say in that short of time?" The answer is, "Enough to intrigue." Watch the trailer teaser for the film below and witness yourself being hooked in a mere 10 seconds.
In the very brief clip by Disney, we see the shot of the mysterious T-branded button like object. "What if there was a place where nothing was impossible?" Those are the words of George Clooney (who plays Frank Walker in the film), heard as we see a young girl Casey Newton (played by Britt Robertson) as she touches the Tomorrowland emblem, briefly opening a portal seemingly into another dimension. She pulls her finger off and it appears not even a moment has passed in her present world. The young girl flips the switch again when out in an open field and reopens the portal, revealing a futuristic skyline as two Rocketeer-like individuals go whizzing by her head at high speeds. Now, just try and tell me you're not hooked!
The promo may be short but it promises many things in its hasty teaser. First of all we see amazing visual effects. The transitions between worlds look nothing short of stunning and the transported world of Tomorrowland looks very stylized and exciting. Second, the teaser intrigues. Giving just enough information for us to understand the concept but not giving us too much, so as to spoil the plot, it leaves us right where we want to be, intrigued. Third, it promises endless thrills, surprises and possibilities... and, oh yeah, I almost forgot George Clooney. What else could we ask for? For those not convinced, check out the full trailer below.
Tomorrowland follows an eager science-loving teen named Casey Newton (Robertson), who teams up with former boy-genius inventor Frank Walker (Clooney) to unearth the secrets of a mysterious land existing in space and time somewhere in their collective memory. The Disney film co-stars Kathryn Hahn, Hugh Laurie, Tim McGraw, Keegan-Michael Key and Judy Greer, and was scripted by Damon Lindelof (The Leftovers, Lost, World War Z) and Brad Bird (The Incredibles, Mission: Impossible – Ghost Protocol), the latter who also helmed the film.
Tomorrowland, a title it was unable to keep in some countries around the world, is set to air a promo clip during the Super Bowl on Feb. 1. The epic sci-fi film hits theaters on May 22.
Your Daily Blend of Entertainment News
Thank you for signing up to CinemaBlend. You will receive a verification email shortly.
There was a problem. Please refresh the page and try again.