Tragedy On The Set Of Jumper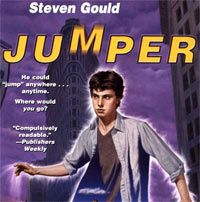 Variety is reporting that on January 25th a crew member was killed on the set of director Doug Liman's sci-fi thriller Jumper. The Toronto set was being dismantled after the location wrapped and production moved on location in Tokyo. Set dresser David Ritchie, 56, was hit and killed instantly by a frozen piece of sand and gravel that fell off a wall at an outdoor set. A second crew member was taken to the hospital overnight but is reportedly not in danger. The police referred to it as a "fluke accident."
Jumper Prods. issued a statement saying that their "thoughts and prayers go out to David Ritchie's family and all of those affected at this time." A colleague reported that Ritchie was "loved by everyone on the crew" and had a "wonderful, gentle spirit." The surprising thing is not that a person died while making a movie, but that it doesn't happen more often. Any major movie contains complicated construction, stunts, and activities that place men and women in physical danger daily. The people involved haven't always worked together and, even if they have, are coming into a unique construction and destruction situation with each new picture.
Your Daily Blend of Entertainment News
Thank you for signing up to CinemaBlend. You will receive a verification email shortly.
There was a problem. Please refresh the page and try again.