Tribeca: Gael Garcia Bernal And Diego Luna Talk About Childhood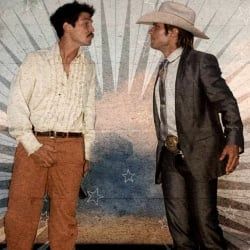 We're told constantly in the press that Mexican actors Gael Garcia Bernal and Diego Luna are best friends in real life, and sometimes it seems like wishful thinking on the part of Y Tu Mama Tambien fans who want to pretend the movie was real. But when the two show up for a Rudo y Cursi interview dressed alike, then finish each others sentences, help each other out with English translations and pour coffee for one another, it's hard not to notice that there's a real bond there.
And it turns out that's a bond that started over 20 years ago, when the then-9-year-olds acted in plays together at an after-school program in Mexico City. "I can say that in that time I did realize that this guy was going to be my friend, that i could share this passion with him, and I couldn't share this passion with anyone in school," explained Luna, who then told the story of the strike the two young actors organized during the play. "We put the play together, and then we hated the director so much we went on strike, and then we quit, and we talked to the audience, and we said to the audience 'This woman is just crazy.' "
In Rudo y Cursi, Bernal and Luna play two dirt poor brothers who love to play soccer, and both of them are given the chance to play professionally by a less-than-altruistic recruiter. Rudo (Luna), the quick-tempered goalkeeper, and Cursi (Bernal), the forward who dreams of being a musicians, play for separate teams but live together, and go through phrases of supporting one another, envying one another, and hating each others' guts. Apparently that part also has some basis in real life. Explains Luna, "It's not easy to find someone you can share a passion with. [From the school play] things happened in our lives, there were times when we hated each other, and there were times when we were really close again."
And, like brothers, Bernal and Luna recognize that their shared experiences have created a bond they share with no one else. "The only other person I could relate to in the experience I've been living as an actor is Diego," Bernal says. "There's no other person who understands my reality better, and we help each other in that way."
Rudo y Cursi opens this Sunday at the Tribeca Film Festival (get more info here), and between now and then we'll have lots more on the film, including a review, more from this interview and another interview with the movie's director Carlos Cuaron (brother of Y Tu Mama director Alfonso). In the meantime, check out the film's trailer below.
Your Daily Blend of Entertainment News
Staff Writer at CinemaBlend