Tribeca Interview: Dog Pound's Jeremie Delon, Kim Chapiron And Adam Butcher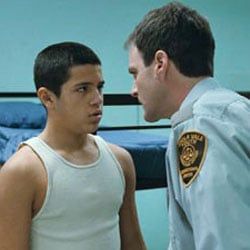 Thanks to Dog Pound, I began my coverage of the Tribeca Film Festival in an overwhelmingly fantastic way with high hopes for the screenings to come. From there some were fantastic, some were far from it, but throughout one thing remained constant, Dog Pound was at the top. Clearly others thought as highly of the film as I did, namely the 2010 World Narrative Competition jurors including Hope David, Aaron Eckhart and Cheryl Hines. Just the other evening, writer-director Kim Chapiron was awarded $25,000 and the Best New Narrative Filmmaker honor.
I had the pleasure of sitting down with Chapiron's co-writer, Jeremie Delon, who provided the rundown of how Dog Pound came together. "Georges Bermann, the producer of Eternal Sunshine of a Spotless Mind, he approached Kim four years ago, literally four years ago, and said, 'Listen, I was to make this movie on juvenile prison in the US.'" But why Chapiron? During a roundtable interview earlier in the week, Chapiron himself recalled, "[Georges] enjoyed the way the young generation was presented [in Sheitan]," Chapiron's first feature film, which played at Tribeca back in 2006.
Delon continued, "Georges funded us a little trip to go to the Midwest to be able to document these places and get a feel of what we were going to talk about." Delon was in charge of reaching out to the juvenile commissioners to gain access to the facilities, which was no easy task. But after establishing that they had no intention of exploiting the system through their venture, they were in. Chapiron and Delon did everything with the inmates from attending class to anger management sessions. Delon admitted, "It was very scary at first, but they were very generous and very vulnerable with us because we were still young adults. We were giving them attention, something they lacked all their life, which is probably the reason why they ended up in these places."
It was this first-hand research that inspired the story of Dog Pound, a film depicting the experience of three young men sent to the Enola Vale Youth Correctional Center. Angel (Mateo Morales) is a 15-year-old doing time for assault and auto theft, Davis (Shane Kippel) is a 16-year-old guilty of drug possession and Butch (Adam Butcher), the most profound of the three, is a 17-year-old confined for attacking a correctional officer. Finding the right Butch was no easy task. "Adam Butcher, we found him almost less than a week before the shoot," Delon recalled. "We saw his audition tape over the Internet. Kim [was] just like, 'That's him!" Butch is like a ticking time bomb; when engulfed in rage his attacks are brutal, but otherwise, he's an unnervingly serene and thoughtful person. Delon explained, "We wanted to see that duality in his eyes and it was totally there. It was flagrant, it was palpable."
Even though Butcher plays the most threatening of the three leads, he himself was quite intimated by some of his co-stars, specifically those who weren't professional actors. Delon explained, "It was a very grassroots way of making a movie. We had to cast kids in the street. I found ones who work in a liquor store, looked like a good CO, found kids at unemployment agencies; it's a great place to cast I think. Found kids in bars, strip bars, all sorts of places." The role of Banks, the prime villain and Enola Vale's biggest bully, went to Taylor Poulin, a young man who was released from a juvenile detention center just days before shooting. Delon recalled, "During the preparation of the movie, we were hosting theater workshops around the film set, in juvies around the film set; [we] found Banks. He was released two days before the shoot." At the roundtable, Butcher remembered, "Banks was very intimidating in the beginning and very similar, almost exactly like his character in the movie was how he would talk to me. As time went on, it's very interesting to see how his personality would change, after we kind of got closer." He continued, "It was very interesting to see these people who put on this tough exterior, but in reality, when they feel comfortable with everybody, they're just nice kids."
Still, some of the boys on set had the potential to grow violent, calling for a constant caution. "There was a lot of mediation during the shoot, especially when you're shooting in a small town, casting like 80 kids, not all of them go to school, they're all unemployed," Delon said. "Among themselves there's inner conflicts and small town grudges, beefs, and you have to sort of mediate that, be careful that this guy cannot be on set with this other guy otherwise he'll go totally bananas on him." When asked if any of this tension manifested into actual trouble, Delon was relieved to say, "No. Thank god, no, but, you know, there was tension sometimes."
In fact, the amalgamation of professionals and novices turned out to be one of their most vital assets. Delon explained, "Since we were working with non-professional actors and professional actors we had to adapt the script to what they were able to do and what they could give us best." Butcher recalled, "I had never worked with as much improv as there was, but I think it made it real" and Chaprion noted, "I like the fact that we were always flirting with the reality."
For some, that reality may be a bit too much to digest. Dog Pound is violent and that's putting it lightly. Delon explained, "I think it's necessary to show what happens and to show the brutality of the violence, which is very instinctive and very primitive, but at the same time, there's a lot of thought put into it. If you're incarcerated you're very limited with what you can go to combat with and you have constant surveillance and you've got to be quick and effective." Regardless of how much it can pain a viewer to see a character he or she has connected with put through such an intense degree of torture, the experience is essential when it comes to the film's profound impact.
Chapiron explained, "I just want to share emotion more than a message" and he certainly accomplishes just that. Dog Pound leaves you with a pit in your stomach and an intense degree of passion for what you've just witnessed. You may not walk out of the film with a smile on your face, but you'll leave with the certainty that you've just seen a power piece of fictional filmmaking eerily infused with a degree of reality. The world narrative jurors say it best in their official comment, "We have chosen to honor a director who created an environment built with such intensity and humanity that his ensemble cast was able to transcend the cold walls and locked doors that confined their characters." Congratulations to Chapiron, Butcher, Delon and everyone else involved in the making of this film.
Your Daily Blend of Entertainment News
Staff Writer for CinemaBlend.