True Story Trailer: Watch James Franco And Jonah Hill Get Really Serious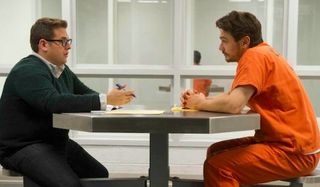 Fresh from almost bringing the world to the end with The Interview, James Franco has jumped straight back on the cinematic horse with the release of the trailer for True Story. Jonah Hill is also featured prominently in the clip, which shows the pair acting incredibly serious for a change.
It looks promising. Jonah Hill has proved that he is more the capable of providing a nuanced yet complex performance in a drama, while it is also a reminder that James Franco can play creepy yet captivating with aplomb too. True Story revolves around Jonah Hill's Michael Finkel, a disgraced New York Times journalist who finds that his identity has been taken on by James Franco's character, a wanted killer. On the hunt for a story, Michael Finkel grows closer and closer to James Franco's Christian Longo. But not only does he put himself in increasing danger, he also damages his relationship with his wife, played by Felicity Jones. Alongside the release of the first trailer, Yahoo has also unveiled the first poster for True Story, which is pretty bodacious.
As you could have probably guessed, True Story is based on real events. In fact the film was adapted from Michael Finkel's 2005 autobiographical book, True Story: Murder, Memoir, Mea Culpa. Michael Finkel was originally fired for making up a part of an article he had written about teenagers in the West African jungles. After moving away from New York and contemplating how to rebuild his career Michael Finkel's story took an extremely peculiar turn. When Christian Longo was captured following the alleged murder of his three children and wife, it was revealed that he used Michael Finkel's name as his alias. No one could figure out why. Intrigued by why he was selected, Michael Finkel then found himself being drawn in to the case and he even started to develop a relationship with the incarcerated individual.
There's plenty to be excited about with True Story. Both James Franco and Jonah Hill have always had good on-screen camaraderie, and while I have to admit that it is a tad peculiar seeing the pair exchange dramatic barbs rather than humorous ones I am confident that they'll work well together. This will also be Jonah Hill's first attempt to truly carry a dramatic film as the leading protagonist. While he punctuated The Wolf Of Wall Street and Moneyball wonderfully with his presence, so much so that he received Oscar nominations for them both, Leonardo DiCaprio and Brad Pitt did all of the heavy acting work for the films. This is his opportunity to prove that he can do just that too, and I'm confident that he'll succeed. True Story is scheduled for release sometime in January 2015.