The Twilight Saga: Breaking Dawn Part 2 Comic Con 2012 Live Blog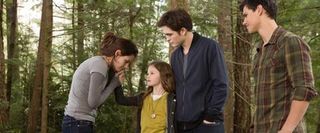 This year, the first panel of Comic Con is also one of the biggest. It's time for the screaming tween girls and their moms to descend upon Hall H one last time, as the panel for the final Twilight movie-- The Twilight Saga: Breaking Dawn-Part 2 that is-- gives fans their first look at the final chapter of Bella and Edward's vampiric romance. The first Breaking Dawn film featured one hell of a bloody birth sequence, and the first trailers for Part 2 have promised giant vampire-on-vampire battles, so it's possible this Twilight panel will feature more of the fun stuff that Comic Con crowds usually flip for. Then again, the crowd gathered here is in it for one thing: a look at the stars in person.
And the stars are expected to be out in force today, with the big ones Kristen Stewart, Robert Pattinson and Taylor Lautner all set to appear, along with supporting players Ashley Greene, Nikki Reed, Peter Facinelli, Elizabeth Reaser, Jackson Rathbone and newcomer Mackenzie Foy, who plays Renesmee . Read below for the blow-by-blow liveblog of everything that goes down at the panel, and keep refreshing for the latest updates.
12:58 A rare late start for a Hall H panel. Before the screaming and excitement can begin, though, it looks like we're getting a tribute to the woman hit by a car waiting in line for this panel. Sad note to start on, but necessary.
1:00 Eric Moro, of Wikia, starts things off, and yes, the screaming begins. "This will be the final appearance for the Twilight saga" gets a combination of cheers and boos-- no one knows quite how to feel!
1:01 Apparently we're getting more footage and more special guests than any Twilight panel before. Given that the movie was shot over a year ago, that only makes sense.
1:02 The three main stars take the stage-- sorry, Team Jacob, but Robert Pattinson gets by far the loudest cheers.
1:03 Stephenie Meyer is here, but Bill Condon makes us settle for a recorded message. Maybe he couldn't handle the thought of getting fewer screams than Taylor Lautner?
1:04 They're showing the first 7 minutes of the movie! See you after!
1:11 There's really only one thing you need to know about this footage; Kristen Stewart wrestles, then eats, a mountain lion. For real. More on that to come!
1:13 Kristen Stewart, looking more relaxed than ever and with some excellent lipstick, says she too had been waiting a long time to "break her in, see how fast the car goes, you know." Apparently the vampire version of Bella is what she's always been wanting to play.
1:14 There is a baby sitting behind me. Y'know, to see the mountain lion eating.
1:15 Rpattz answers a nonsense question with a nonsense answer. He looks as bored as Kristen Stewart always did.
1:16 Time for MacKenzie Foy, a.k.a. Renesmee, to speak. The fact that Taylor Lautner's character is supposed to be in love with her in the movie is making this entire panel a little bit creepier than usual.
1:18 Another clip, this one actually pretty funny, of the Cullen family trying to tell Bella how to act human. Apparently it's a lot harder than it seems-- you can't move too fast, you can't sit up too straight, you have to remember to blink and look like you're breathing, and you have to wear some itchy contacts. If you think Kristen Stewart can't do comedy, you might be pleasantly surprised by this scene.
1:20 Time for the rest of the Cullen family to take the stage. People are inexplicably really into Kellan Lutz.
1:22 Everyone's teasing Peter Facinelli for not being able to come up with a decent answer to a softball question.
1:24 Kellan Lutz says the world "kiss," the crowd goes wild. Everyone is being asked about their favorite parts of working on the movie, and somehow none of them really have good answers. Come on, you guys, you knew this was coming!
1:27 Time for fan Q&A! A girl asks them which villain they would dress as if they attended Comic Con as a fan, and Stewart goes for a nice plug-- "The evil Queen from Snow White!" Pattinson picks General Zod, which would impress most Comic Con crowds, but that's not exactly this audience.
1:28 Someone asks Stephenie Meyer about a potential book from Edward's point of view, and she tries to fob it off on to Pattinson writing his own book. As if that wouldn't be a total bestseller.
1:30 Apparently there's a scene cut from the movie in which Taylor Lautner throws a bowl at Nikki Reed's head, and they had to do about a million takes of it because Lautner kept missing-- apparently he hit the cameraman in the groin once. Come on, deleted scenes!
1:33 A Brazilian fan asks a token question about their experiences shooting in Brazil, and it actually livens up Pattinson and Stewart-- they get really lively remembering the food they ate their, and the dancing scene you saw in the movie. Well done, Brazilian fan!
1:34 First adorable kid questioner of the Con! She seems totally overwhelmed, and Stewart seems delighted by how shy the girl is.
1:35 Q: "If you could give your character from Twilight any piece of advice, what would it be? Pattinson: "Keep it in your pants."
1:37 Lautner says the scene where he tells Bella he's "imprinted" on her daughter was "fun to shoot and hilarious." She beats him up, and understandably so!
1:39 MacKenzie Foy says she lost a tooth "riding wolf Jacob. I'm sorry, I can't get over the imprinting thing! This is so weird!
1:41 The whole cast gets asked what concert they would go to. Stewart picks Rilo Kiley. Pattinson picks Woodstock.
1:43 Stewart admits it's sad to be doing her last Comic Con panel for Twilight. "But it feels good. It's almost like, yes! We finished."
1:43 "I just want to have a bro moment right here with Taylor Lautner. You inspired me to lose weight." Way to go Alex! He asks Lautner for workout questions. This is kind of great!
1:45 Surprise guests! A lot of representatives from the movie's other vampire covens take the stage. No one really knows quite what to make of them, though-- most of these people aren't particularly famous. Maggie Grace gets a lot of applause though!
1:48 About a million actors take the stage, and that's the end of the panel!
Your Daily Blend of Entertainment News
Staff Writer at CinemaBlend
Your Daily Blend of Entertainment News
Thank you for signing up to CinemaBlend. You will receive a verification email shortly.
There was a problem. Please refresh the page and try again.