The Two Pulp Fiction Spinoffs Quentin Tarantino Wanted To Make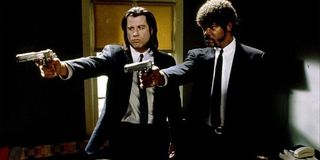 Apparently, we've only got two Quentin Tarantino films left. This means that any news regarding his future films is instantly lapped up, but it also makes news about films that never made it to the big screen is just as interesting too. Tarantino has confirmed as much by announcing two Pulp Fiction spin-offs he wanted to make, and that the world is now a lesser place for being without.
While out promoting The Hateful Eight in Australia, Quentin Tarantino admitted to film blog So Is It Any Good? that he has previously been very tempted to make films that paired up brothers Pulp Fiction's Vincent Vega (John Travolta) with Reservoir Dogs' Vic Vega (Michael Madsen), on their own criminal adventure. But he didn't stop there though, because he revealed that he also considered a spin-off that revolved around Samuel L Jackson's Jules, strutting across the globe as he'd intended. Tarantino explained:
Time and time again, Tarantino has insisted that he's going to stop at 10, which obviously means that legions of his fans are already in mourning. The likelihood of Quentin Tarantino returning to the world of Pulp Fiction is now remote, especially since he has put this self-imposed countdown on his own cinematic output. But considering just how popular these characters actually are, you can't help but wonder about what they would have consisted of.
I imagine that the Vega Brothers film would have been set over just one night. Plus, if it was set in Amsterdam, the drug consumption in the film would have been outrageous. Of course, a bad drug deal, and the obvious repercussions, would be included in the mix as well - with a killer soundtrack to boot. Just imagine Harold & Kumar Go To White Castle meets, well, Vincent's first segment in Pulp Fiction.
Meanwhile, I'd imagine that film about Jules wandering across the globe would be a much more solemn and reflective picture, as our man in Englewood would try not to be violent, only helpful. In fact, it would probably see him helping out a remote town in need. Something like a one-man Seven Samurai, with a tip of the hat to the TV series Kung Fu, just with way more pop culture references.
If you're interested in listening to the man himself lay down the details, you can check out the full, rather enjoyable interview below. Tarantino is in peak form, and it's too good to miss out on.
The Hateful Eight has proven to be somewhat divisive. While I loved it so much it made my Top 10 of 2015, others I have spoken to utterly despised it, and me for recommending it to them. That said, if you've not seen it yet, you can do so currently as it's still in cinemas.
Your Daily Blend of Entertainment News