Tyler Perry Based His Teenage Mutant Ninja Turtles 2 Character On An Unexpected Person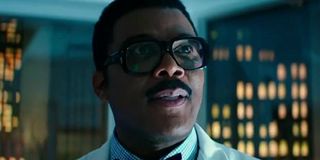 Actors often like to base their performances on real-life individuals. Heath Ledger's Joker was partly inspired by Tom Waits, Michael Fassbender's Prometheus portrayal was based on Peter O'Toole in Lawrence Of Arabia, and now Tyler Perry has admitted that his turn as Baxter Stockman in Teenage Mutant Ninja Turtles: Out Of The Shadows was influenced by none other than the national treasure that is Dr. Neil deGrasse Tyson.
Tyler Perry made this revelation while talking to Fandango (opens in new tab) about his villainous role in the blockbuster, admitting that while Neil deGrasse Tyson was used as a starting off point for his work, he soon deviated because the renowned scientist is just too nice. Tyler Perry explained:
Neil deGrasse Tyson is one of the most celebrated astrophysicists and cosmologists on the globe, while his celebrity status has also increased thanks to his podcast StarTalk, his television work hosting Cosmos: A Spacetime Odyssey, and his various appearances on The Colbert Report, The Daily Show and The Tonight Show. He's also become somewhat of a viral sensation thanks to his reviews of the science in films like The Martian and Interstellar. Plus, he's an all-round stellar man. Need proof? Just look at the picture below.
As Tyler Perry noted in the above quote, while his performance as Dr. Baxter Stockman might have had its genesis in Neil deGrasse Tyson, the character soon sets out to use his intelligence for bad rather than good. In fact, to assist him in his devious ways he pairs up with Shredder, Krang, Bebop and Rocksteady to try and take control of the world.
There's plenty of anticipation regarding Tyler Perry's performance as Dr. Baxter Stockman, mostly because of the villain's prominence in the history of the Turtles. After debuting in just the second edition of the Teenage Mutant Ninja Turtles comic all the way back in 1984, Dr. Baxter Stockman went on to appear in the 1987, 2003, and 2012 TMNT Animated Series which saw him turn into a humanoid fly.
That incarnation of Dr. Baxter Stockman is the one that lives longest in the memory, and there are hopes that Tyler Perry's version of the character will follow this route, too. However, a third installment to the Turtles franchise all depends on the box office success of Teenage Mutant Ninja Turtles: Out Of The Shadows at the box office. We'll get to see if it can earn enough to force another sequel later this weekend, because, lo and behold, Teenage Mutant Ninja Turtles: Out Of The Shadows is now in cinemas across the country.
Your Daily Blend of Entertainment News