UPDATE: Old Spice Guy Isaiah Mustafa Wants To Be Luke Cage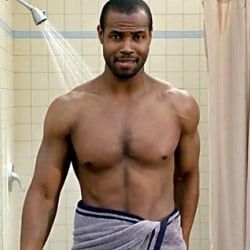 UPDATE: Apparently dreams may actually come true. Via the actor's Twitter account, Mustafa has announced that he is going to Marvel headquarters in New York today for a meet-and-greet. Obviously this doesn't mean that he's going to be Luke Cage by the end of the day, but it's quite obvious that Marvel has seen this story blow up.
Actor Isaiah Mustafa has found near-instant fame as "The Old Spice Guy," the star of the visually spectacular commercials who encourages ladies to make their men smell like him. You know him; he's the "I'm on a horse" guy. He's already been cast in Tyler Perry's next film but he's pursuing even bigger Hollywood fame. Yes, Isaiah Mustafa wants to be a superhero.
Luke Cage, specifically, which isn't surprising given that Cage is one of the few blacks superheroes out there. Talking on Attack of the Show about the newest Old Spice commercial (do yourself a favor and watch it here), Mustafa both revealed the secrets of how they pulled it off and confessed to his Luke Cage dreams. At least he was more honest about it than most cagey actors:
Of course, Mustafa isn't the first actor to openly campaign for the part-- Tyrese Gibson has been talking about it for years and the most recent rumor had Terrence Howard in talks for the role. Mustafa isn't as famous as either of those actors, but maybe he'd be a better choice for it-- after all, casting unknowns to play superheroes is popular right now. Check out the video of Mustafa below (it starts around the 7 minute mark) and see if his enthusiasm is enough that you'd cast him.
Your Daily Blend of Entertainment News
Staff Writer at CinemaBlend