UPDATED: MGM Planning Five New Remakes, Including Robocop And Mr. Mom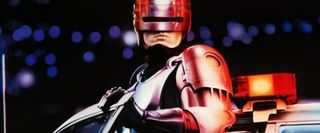 UPDATE! We've heard from sources close to the top at MGM that there's no truth at all to Variety's reports of an upcoming slate of remakes at the studio. In fact MGM has no films at all on their slate other than Bond 23, the Hobbits, and the newly announced Hansel & Gretel: Witch Hunters.
Here's our original coverage of Variety's incorrect story:
MGM has been no stranger to remakes over the last few years, with the new take on Red Dawn still waiting for a release date and a potential Robocop remake still possible even now that Darren Aronofsky has walked away from the project. In fact, there's a whole lot of MGM remakes that are still possible, now that the studio is finally out of bankruptcy and ready to mint some money based on their old projects.
We already reported the deal the studio struck with Paramount to co-finance Hansel And Gretel: Witch Hunters, but according to Variety that's only the beginning of their big plans. They've got five projects in the works, all of them based around previous films-- remakes of Robocop, Mr. Mom and the 1980 drama The Idolmaker, plus another film based around Hercules and a fourth Poltergeist film.
The Hercules film is the only one with any names attached, as Peter Berg has been developing the project at Spyglass Entertainment, the former home of new MGM president Jonathan Glickman. The other four are apparently just big ideas MGM, though of course the new Robocop has been in the works so long that there must be some scripts to go on. It's possible that all these planned 80s remakes are a good sign for Red Dawn, which still has yet to get a confirmed release date; then again, it's entirely possible MGM is just picking the best-known names in its stable and running with them.
If the studio is as serious about all these remakes as it claims, we should be hearing a lot more about all of them in the coming weeks. It's probably foolish to hope that Aronofsky will now finally get to come back to his Robocop remake-- which he has said he would still do in the right circumstances-- but I'm hanging on to that sliver of possibility all the same.
Your Daily Blend of Entertainment News
Staff Writer at CinemaBlend