Ultron Full-On Chokes Thor In New Avengers: Age Of Ultron TV Spot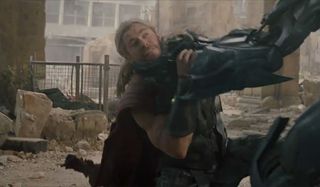 Thor has faced a lot of enemies over his long lifetime, but he probably never imagined that he'd be getting choked out by a robot determined to eradicate humanity. That what we get to see happen and more in the latest TV spot for Avengers: Age of Ultron. What are you waiting for? Press play!
The scene looks like it takes place in the same area where we saw thousands of Ultron's minions converging on the Avengers in the March trailer. There aren't any robot drones around, but Ultron is going mano a mano with the God of Thunder. The adversaries Thor has faced in his three MCU appearances so far are his brother Loki, Asgardian technology (the Destroyer) or other extraterrestrial threats (the Chitauri and Dark Elves). This, however, is a much different kind of fight. Ultron is the first supervillain from Earth that's powerful enough to take him on solo in a fight, and that's both because of the antagonists brains and brawn. It kind of makes us nervous to think about what the robotic menace will do once his hand is around Thor's throat.
Among the other pulse-pounding moments from this TV spot, released to us directly from Marvel's YouTube account, include Ultron or one of his minions attacking Captain America; the star-spangled Avenger catching a civilian from falling off what looks like a whole section of a city rising up in the air and crumbling (what the hell is up with that?); another part of the epic-looking Hulkbuster vs. Hulk fight; and Scarlet Witch yelling out - which she has seemed prone to do in the various trailers and previews we've seen so far from the movie. Oh, and as one would expect, there is also plenty of property damage. Even with the movie clocking in at 142 minutes, don't let anyone tell you it won't be action-packed.
Of course, the star of this particular preview is Ultron himself, who will, according to the movie's title, usher in a "new age." While it's obvious that Ultron's dialogue has been edited to fit the preview, when he says the line "When the dust settles, the only thing living in this world will be me," it's just more affirmation that this is a bad guy who will do whatever it takes to bring about genocide. In his eyes, that's the only way to achieve true peace. Ultron is truly twisted in the head, but that should only make him a more dangerous opponent for The Avengers.
Earth's Mightiest Heroes will deal with stopping the end of the world when Avengers: Age of Ultron hits theaters on May 1st.
Your Daily Blend of Entertainment News
Connoisseur of Marvel, DC, Star Wars, John Wick, MonsterVerse and Doctor Who lore. He's aware he looks like Harry Potter and Clark Kent.
Your Daily Blend of Entertainment News
Thank you for signing up to CinemaBlend. You will receive a verification email shortly.
There was a problem. Please refresh the page and try again.