Underworld 5 Casts Outlander Star Tobias Menzies For Major Role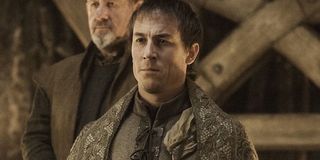 Just in case you were wondering, yes, Underworld 5, a new chapter in the highly stylized vampires versus werewolves franchise, is happening, and they're putting together a pretty solid cast. That includes the latest addition to the saga, Tobias Menzies, who has most recently been hanging out in old-timey Scotland on Starz in their time hopping romance Outlander.
Deadline reports that Menzies has joined the cast of Underworld 5, also known as Underworld: Next Generation, in what they call a "major" role. He will play Marius, a shadowy new leader of the Lycans—that's the werewolves for the uninitiated—and you can be sure that his presence will pose a harrowing new threat for their vampire enemies.
Already in line for the next Underworld is franchise lead Kate Beckinsale, who is set to reprise her role as Selene, the badass vampire warrior with a penchant for Lycan slaying who is the protagonist in three of the four previous films. She opted out of 2009's Underworld: Rise of the Lycans. Theo James, who had a role in Underworld: Awakening in 2012, is also coming back in the part of David.
Underworld: Next Generation also reunites Menzies with director Anna Foerster, who helmed the season finale of Outlander, which sounds like quite the to-do. Apparently, his character, Black Jack Randall, tortures and repeatedly sexually assaults the lead character, Jamie Fraser, played by Sam Heughan. Given that the Underworld movies usually skew more towards the PG-13 range, you have to imagine that level of brutality is going to be toned down quite a bit. This also marks the first time a woman will direct an Underworld movie, though the franchise has generally revolved around a female protagonist.
There aren't a ton of details about the plot of Underworld 5 yet, but it's starting to come into clearer focus. At the end of the last film, Selene's Lycan/vampire hybrid hubby Michael Corvin (Scott Speedman), who is also her baby daddy, is nowhere to be found, a fact that will likely come into play. It also appears that the age-old war between the two clans continues to rage as new generations take up the clash, hence the title.
Perhaps this time around we see David take up a more central role—he was gravely wounded last time, and watched most of his cadre slaughtered, which sounds like the makings of an angry zealot to me. And if Marius has risen to power on the Lycan side, it stands to reason that a new wave is coming to the forefront, perhaps one that leans towards the more fanatical side. I'd be willing to bet that Selene and her family somehow find themselves in the middle of all of this, but that's just a theory at this point.
Underworld: Next Generation is slated to begin filming in Prague in October, which sounds like an ideal place to film an action-centric movie about vampires fighting werewolves.
Your Daily Blend of Entertainment News
Thank you for signing up to CinemaBlend. You will receive a verification email shortly.
There was a problem. Please refresh the page and try again.