Universal Hires F. Scott Frazier To Write An Alien Invasion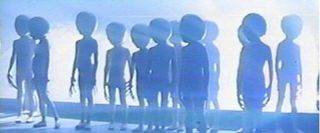 Things are certainly looking up for screenwriter F. Scott Frazier. Way up. He's sold a handful of spec scripts over the last two years with four of them currently in various stages of production. However, since they are still in stages those who haven't read his work - most of us - aren't exactly sure what all the fuss is about. With this much success this fast, you would think the young writer is legit, especially in light of the hefty sum he just snagged from Universal for an alien invasion pitch.
The Wrap reports that Frazier landed six figures for his idea for a film about extraterrestrials making an apparently not so friendly terrestrial visit. I say apparently because it was a pitch that was bought by Universal so details of the film are obviously quite thin. Cross your fingers that F. Scott can come up with something a little more compelling than the latest batch of alien invasions like The Darkest Hour, Skyline and, the truly disappointing, Battle Los Angeles.
The first script Frazier sold, The Numbers Station (which stars John Cusack and Malin Ackerman) is slated to come out sometime this year and will give us our first chance to see something he's written. Although the plot for that film doesn't sound all that inspired - a woman and the retired black-ops agent assigned to protect her are forced to flee from unknown assailants - I reserve judgement until we see the final product. And besides, John Cusack in a Grosse Pointe Blacnk-esque role sounds promising. The other scripts of his currently in the works include Warner Bros' Line of Sight, which is set to be directed by and star Ben Affleck and Embassy, which will feature Tobey Maguire.
Your Daily Blend of Entertainment News