Up In The Air Takes Flight In December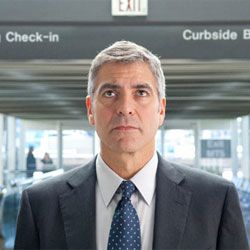 Up in the Air looks great. There really isn't much else to say about it. Jason Reitman seems to get better and better at his craft with every film. Thank You For Smoking was a satirical gem. He found the heart in Diablo Cody's script for Juno, a screenplay which could have turned to disaster for many other directors. Thank you Ivan for having relations with your wife and creating this dude because he knows what he's doing behind a camera.
And now we'll no longer have to wait to find out when we'll get to catch Up in the Air. According to Variety, Paramount has set December 4, 2009 as the limited release date for Reitman's third feature. That probably means that people on the coasts will get to catch it then, then everyone else will have to wait a week or two. This puts the film right in the middle of the Oscar season, which sounds about right from what we've been hearing about it.
Paramount's original release date was supposed to be November 13, just a week after The Men Who Stare at Goats, another highly-touted Clooney vehicle. Although I would be more than happy to catch two Clooney flicks in two weeks, Paramount is making a the right call by changing their plan. Not everyone is as comfortable with their Clooney mancrush as I am.
Your Daily Blend of Entertainment News
Thank you for signing up to CinemaBlend. You will receive a verification email shortly.
There was a problem. Please refresh the page and try again.