Updated: Did Hugh Jackman Just Film A Cameo In X-Men: First Class?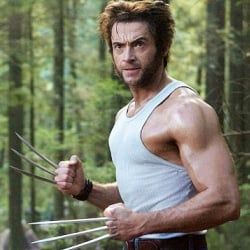 Speculation about a possible Hugh Jackman appearance in X-Men: First Class has thus far been pretty much limited to fanboy wish fulfillment-- yes, his Wolverine has appeared in all the X-Men movies previously, and he's the one with his own franchise to work on right now, but Matthew Vaughn seems pretty committed to creating his own world with the film, and may not want to cross the universes together just yet. If you were holding out hope to see the clawed one, though, a cab driver in Georgia may have just given you something to smile about.
Yes, a cab driver in Georgia is the source of this scoop, and that's why you should consider it pure speculation and rumor for now. But the guys at Comic Book Movie happened upon a Facebook status that read as thus:
With First Class filming on Jekyll Island right now, it's pretty much the only explanation for why Hugh Jackman would have been visiting that beach town in November. But was he just swinging by to lend some moral support to the new kids? Or did they toss him in front of the camera while he was down there? As busy as Jackman is I would be pretty surprised if this visit didn't result in a cameo, but how big a role we can expect is still totally up for debate. Are you guys excited to see the original Logan make an appearance here, or would you rather First Class be more of a complete fresh start?
UPDATE! Bryan Singer tells Geek Files that Wolverine will not be in First Class. He says, "He's not in the movie, he's in the Wolverine movies." Meanwhile Fox confirms that First Class hasn't started shooting in Georgia yet and that if Hugh Jackman was in Georgia, it wasn't to work on that movie.
Your Daily Blend of Entertainment News
Staff Writer at CinemaBlend